My Chevy Bolt has already had it's battery replaced by GM to eliminate the very-remote risk of fire associated with the original batteries. And now it's time to do a six-thousand mile road trip!
I'm going to Orlando, Florida for a family vacation. I know it makes more sense to fly but I want to try it this way instead.
The new battery GM just put in my Chevy Bolt is 62.1kwh. This makes it significantly better than the 54kwh it had when I bought it a few months ago, but also better than the original 60kwh the 2018 Chevy Bolt was originally rated at.
The other thing to keep in mind is that while the car technically has 241 miles of range right now, it only fast charges up to 80%. So take the 62.1kwh of current capacity and multiply it by 80% and then multiply that by the rated efficiency of 3.9kwh and you get a fast-charge range of 198mi. Now while the car is rated at 3.9mi/kwh, I drive at 80mph and I get 3.3mi/kwh. This changes the equation to 164 miles of fast-charge range.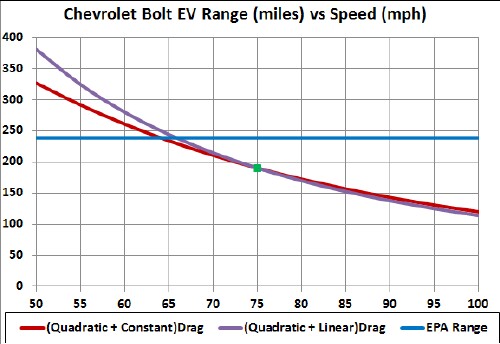 Here is a great graph from a larger experiment done by an online researcher. It's a very interesting experiment, I would check it out. Basically going 70 vs 80 makes a huge difference in range. It's almost half as much charge time per mile at 70 compared to 80.
(I need to try really hard to get that higher efficiency so I don't have to stop and charge as often or for as long.)
Starting in Sacramento, here are all the places I will have to stop to charge;
Day One (7.2 hours)($50.62)

1077 W Cleveland Ave, Madera, CA 93637 (157 miles)
4310 California Ave, Bakersfield, CA 93309 (131 miles)
2796 Tanger Way, Barstow, CA 92311 (129 miles)
82-491 Ave 42, Indio, CA 92203 (130 miles)
End: Rest Area, Whitewater, CA

Day Two (7.5 hours)($52.47)

760 Quartzsite Ave, Quartzsite, AZ 85346 (119 miles)
4311 W Anthem Way, Phoenix, AZ 85086 (150 miles)
2601 E Huntington Dr, Flagstaff, AZ 86004 (115 miles)(steep climb)
700 Mike's Pike St, Winslow, AZ 86047 (55 miles)
1650 W Maloney Ave, Gallup, NM 87301 (128 miles)

Day Three (7.2 hours)($49.88)

2100 Louisiana Blvd NE, Albuquerque, NM 87110 (144 miles)
1028 NM-156, Santa Rosa, NM 88435 (114 miles)
8952 Westgate Pkwy W, Amarillo, TX 79124 (161 miles)
901 N Sheb Wooley Ave, Erick, OK 73645 (120 miles)
End: Erick Rest Area

Day Four (6.5 Hours)($45.16)

820 S Meridian Ave, Oklahoma City, OK 73108 (138 miles)
1800 KOA Ave, Sallisaw, OK 74955 (163 miles)

This one is a little sketchy because Oklahoma has weird local utility chargers with terrible non-functional websites. But as a backup plan, it's next to a KOA and I am bringing an extra charger.

230 Market St, Clarksville, AR 72830 (82 miles)
8801 Baseline Rd, Little Rock, AR 72209 (105 miles)
End: Rest Area, Forrest City, AR 72335

Day Five (6.7 hours)($46.18)

2755 N Germantown Pkwy, Memphis, TN 38133 (164 miles)
2196 Emporium Dr, Jackson, TN 38305 (65 miles)
433 Opryland Dr, Nashville, TN 37214 (140 miles)
74 Starview Ln, Chattanooga, TN 37419 (130 miles)
End: Rest Area No. 35, I-75, Calhoun, GA 30701

Day Six (7.5 hours)($54.28)

1785 Cobb Pkwy SE, Marietta, GA 30067 (109 miles)
301 AG Village Blvd, Perry, GA 31069 (122 miles)
340 Norman Dr, Valdosta, GA 31601 (119 miles)
3970 SW Archer Rd, Gainesville, FL 32608 (105 miles)
4951 International Dr, Orlando, FL 32819 (110 miles)