This tent is amazing. It packs down small and then all you have to do is unzip the bag and it pops up in literally two seconds. It's unbelievably easy and it does great in heavy wind and rain. I have never staked it down or even used the guy lines; I just throw my duffle bag inside with the sleeping bag, and everything stays put.
As a burner and avid camper, I have owned a lot of tents from Kodiaks to Shiftpods and , and I still do. But this one is hands down my all-time favorite tent. It's just so easy and so convenient. It's also surprisingly durable for just fifty bucks. I've been using it for about a year now with no issues.
I also really like the large screens on the sides, roof and front door, and the super simple rain fly the covers the top when you need it.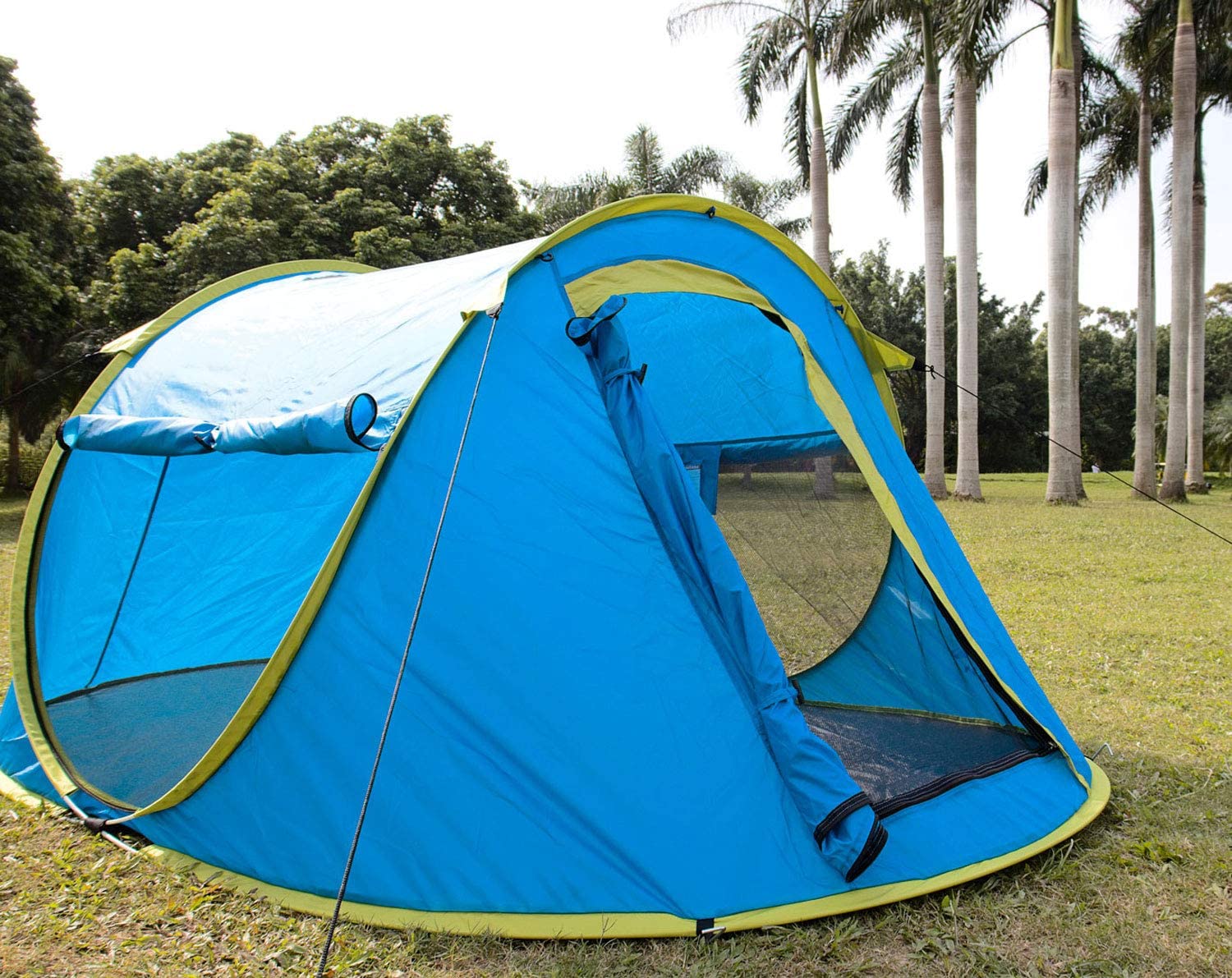 I have also tried a lot of sleeping bags. I like to find the best gear without spending much money. One thing I've learned is that the temperature ratings are misleading. If you buy a sleeping bag that is rated for 40 degrees, that means you're not going to die if it's 40 degrees. It does NOT mean you will be comfortable in 40 degree weather.
This sleeping bag is rated for -40 degrees. I've used it in the heat and the snow and it's been super comfortable across the range of weather. It also comes with a cinch bag so it packs down very small. The best part is that since the foam is so dense, it also provides plenty of padding. I don't even use a sleeping pad anymore because of how comfortable this sleeping bag is.

Hammocks
I like the Eno Double Nest hammocks with the Atlas straps (See below). The Double Nest can hold two people comfortably and safely. The Atlas straps make it super easy to hanging securely between trees while also protecting the trees.

Stove and Coffee
I love the Jetboil and the Bialetti Moka Pot. It's eleven degrees below zero in the photo below, as you can see by the icy table. The Jetboil and Moka Pot had no trouble pumping out shots of espresso to warm us up on this cold Mammoth Lakes morning.
I have the Jetboil flash plus the pot support which helps keep the Moka Pot far enough from the built-in wind-screen to still let it breathe enough to burn.
I've also tried Jetboil's french press insert, but I didn't like it because it takes too much time and water to clean it compared to the Moka Pot.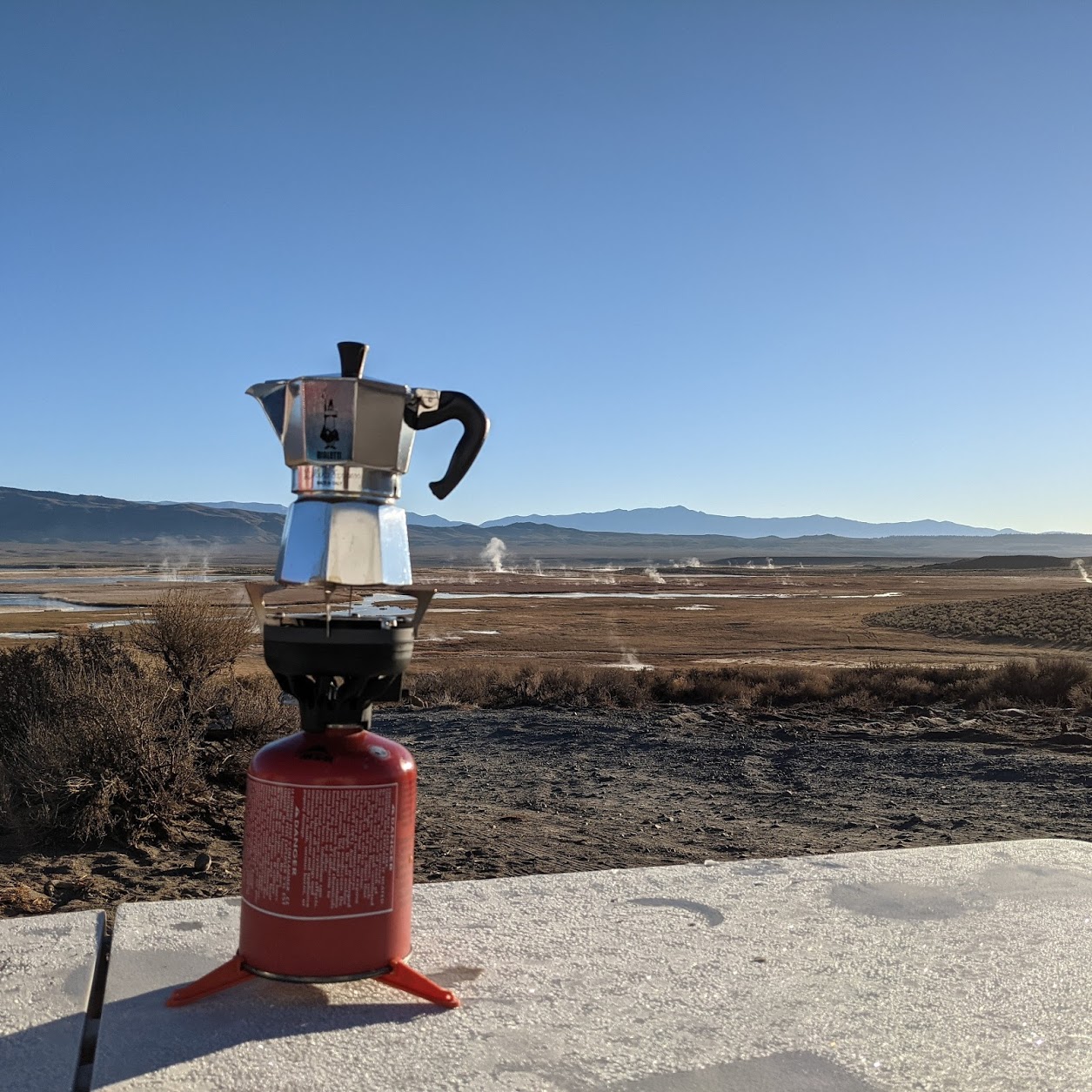 It's also super easy to make cowboy cold brew while camping. I did a whole explanation of that here.
Don't Underestimate The Zhush
Decorating your camp site is a critical part of camping. You need to bring the magic and convey that you are a fun and approachable person, if you want to have an easy time making friends.
I don't bring much with me when I go camping, so the fact that I put so much emphasis on this topic should tell you that it's something I've found critical to a good camping experience.
I made a whole separate post about how to set up a simple and powerful solar power system that will give you plenty of power for charging your devices as well as powering lights and decorations.
My main advice would be to do everything with USB power which is very easy to set up and power. Here are the main zhushings that I recommend based on my experience…
You will need a reasonably large USB battery bank with passthrough (can power things while also charging). It can be hard to figure out which ones support this, but generally speaking I've found that the ones which have the charger and battery in one unit will support charging while also discharging.
If you're going to do this for a whole weekend, get a usb solar panel to continuously charge the battery.
Several USB extension cords and several usb hubs to split the power up for all the devices. I like to use hubs with switches so I can turn things on and off more easily.
Several long (33ft) USB-powered fairy lights. I really like the way the blue ones look at night. They really make the color of the tent stand out, but in a reasonably subtle and non-obnoxious way.
I use four of these special usb electroluminescent drivers (For EL Wire) plus a bunch of different colors of EL wire.  I like to kind of pile these el wires up around the table to create a cool ambient effect that helps you see your camp table and avoid walking into it in the dark. I don't like to bring a table, since most camp sites already have them, but I've had a good experience with this one in the past, if you really want to get one.
I also recommend something like strings of globe lights which are more for actual illumination than just decoration. I like to use velcro ties to hang these up in the tent which makes it super easy to take them down and put them up, and wrap them around the tent a few times to make sure you get plenty of light when you need it.