I've been doing a lot of kayaking since age ten, just over two decades now. I've tried a lot of different gear and here's my current setup based on all my lessons learned.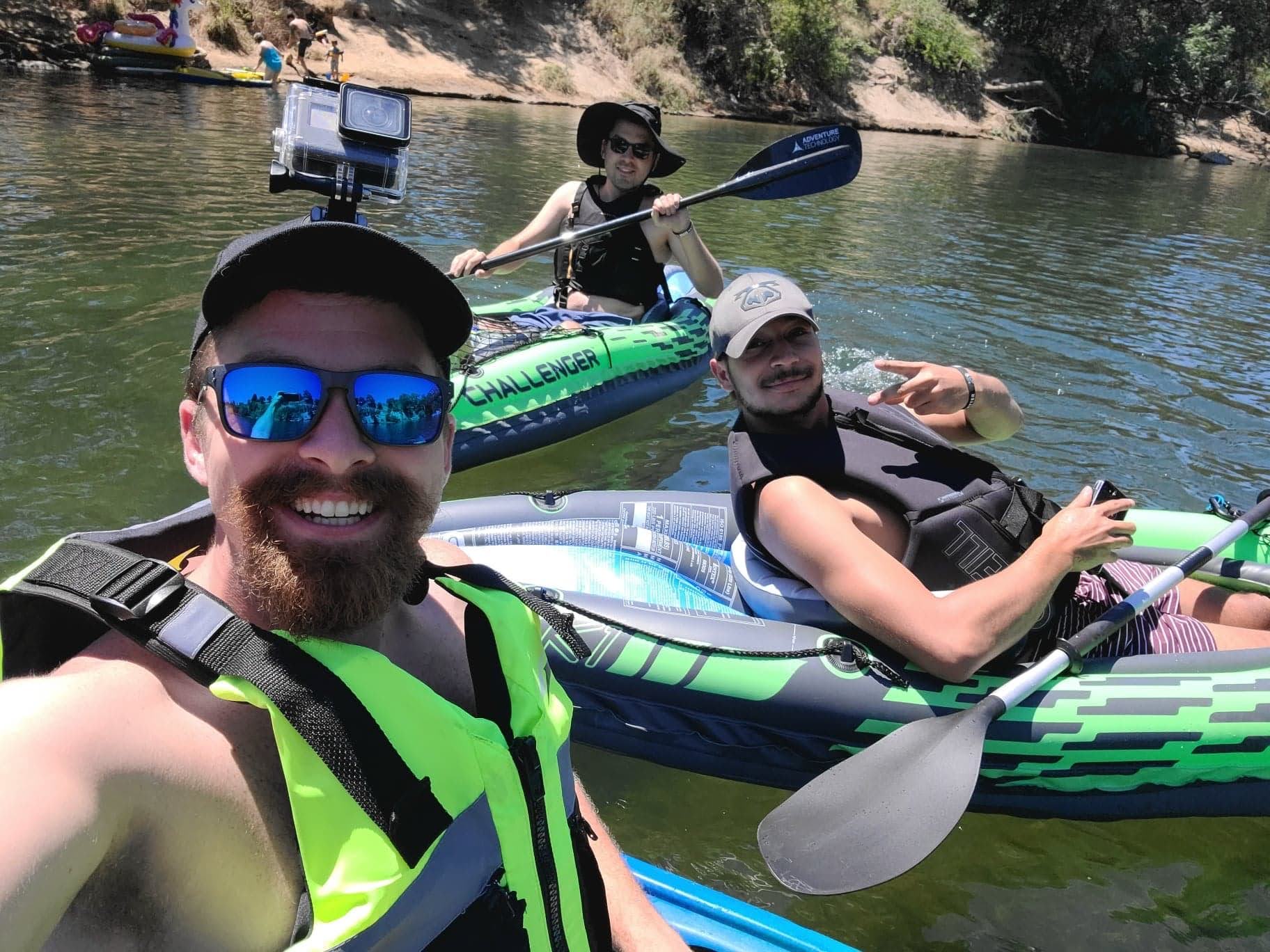 (I'm in the back)
The kayak is my absolute favorite kayak. The Intex Challenger K1 (Second-Generation). These kayaks are really great for either whitewater or calm water. They have a large detachable skeg which really goes a long way towards helping them track in a straight line. It's super easy to keep them from turning at high speed. The detachable skeg is a huge improvement over the first generation because the longer you used them, the less straight the skegs would be, since you have to roll them up every time for storage.
These kayaks are actually surprisingly cheap and they come with a pump and an adjustable-angle paddle. My friend in the middle is using the paddle that comes with the kayaks.
I really really hate those paddles that come with these kayaks so I upgraded to the Adventure Technology Carbon Fiber Geronimo kayak paddle. This is 10/10. I really really like how light it is, and the shape and surface area are perfect. It works really well for a light slow paddle or a heavy intense paddle. You can get a lot of power out of this paddle, and it's light as a feather.
I'm using the Astral Ringo Life Jacket/ PFD  which is rated for whitewater and sea kayaking. Notice how it rides kind of high compared to my friend's wakeboarding jacket? That way if you are knocked unconscious, it will keep your head above water. This style of PFD is an absolute must for any kind of whitewater kayaking.
I also have a WRSI Current Kayak Helmet. I can't find this online so it might be discontinued. I would recommend going to a whitewater shop to get fitted for a good helmet because the sizes do not seem very standardized in my experience.