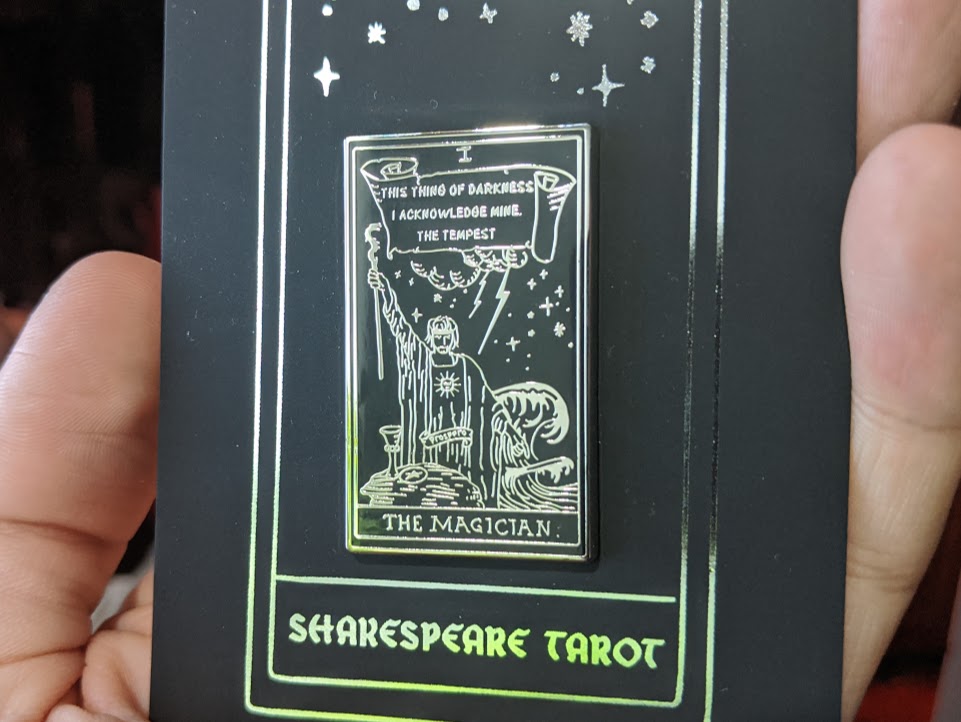 My favorite queer enamel pin so far is probably this one. It reflects my childhood in several ways. I was born at one of the greatest centers at the intersection of the New Age and Shakespeare, as a queer growing up in a far-right family and subculture there. The idea of Prospero as The Magician touches deep on many of the issues that affected my formative years.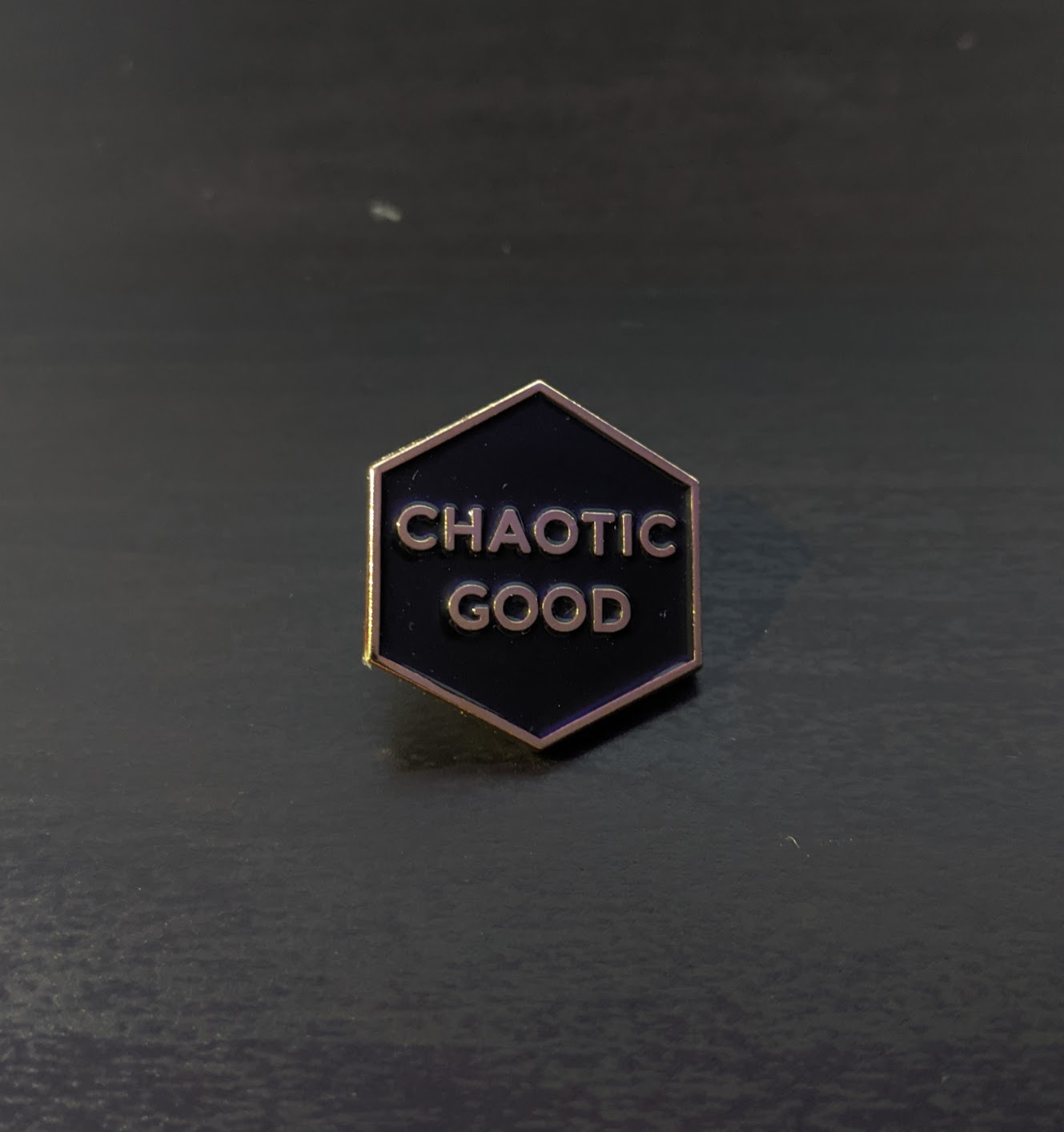 A chaotic good character does what is necessary to bring about change for the better, disdains bureaucratic organizations that get in the way of social improvement, and places a high value on personal freedom, not only for oneself, but for others as well.
-From Dungeons and Dragons
Years ago when I first read this definition of chaotic good, I was struck by how queer it was. The points raised in this definition are without exception, all queer values such as those outlined by people like Foucault and Butler.
I looked for a long time before I found this pin on Amazon. Strangely, it's easy to find others such as "lawful good" or "chaotic evil" but this very queer identity remained elusive until now.
In the context of this post, I will use a hybrid-colloquial definition of the word queer to mean a symbol which when worn, interrupts the assumptions being made by others about one's gender and sexual identity.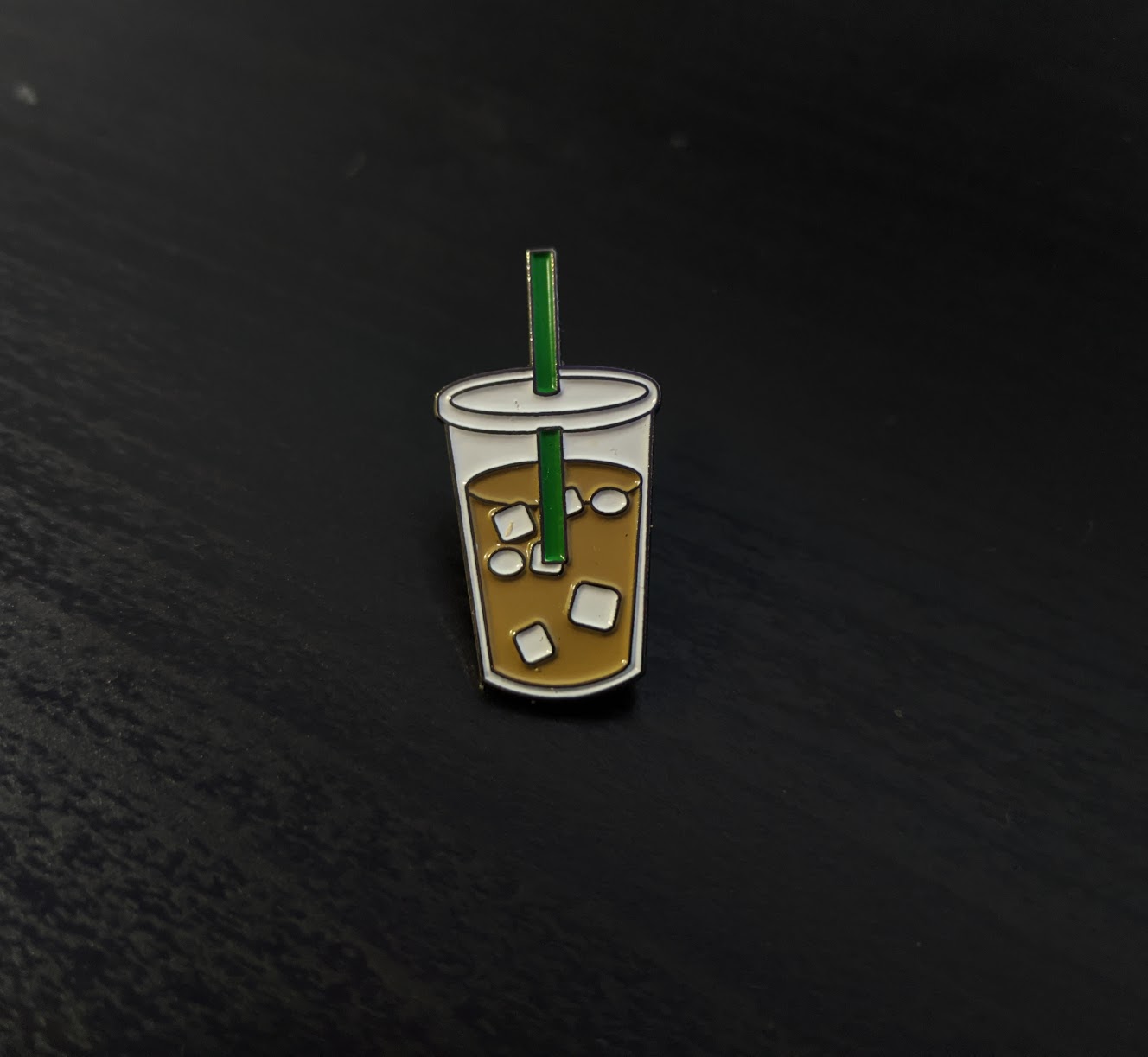 It's hard to think of a more ubiquitous contemporary queer symbol in today's culture than cold brew. There have been many examinations of this phenomena, but as someone who drinks about a gallon a week, it made sense to adorn myself with this iconic queer symbol.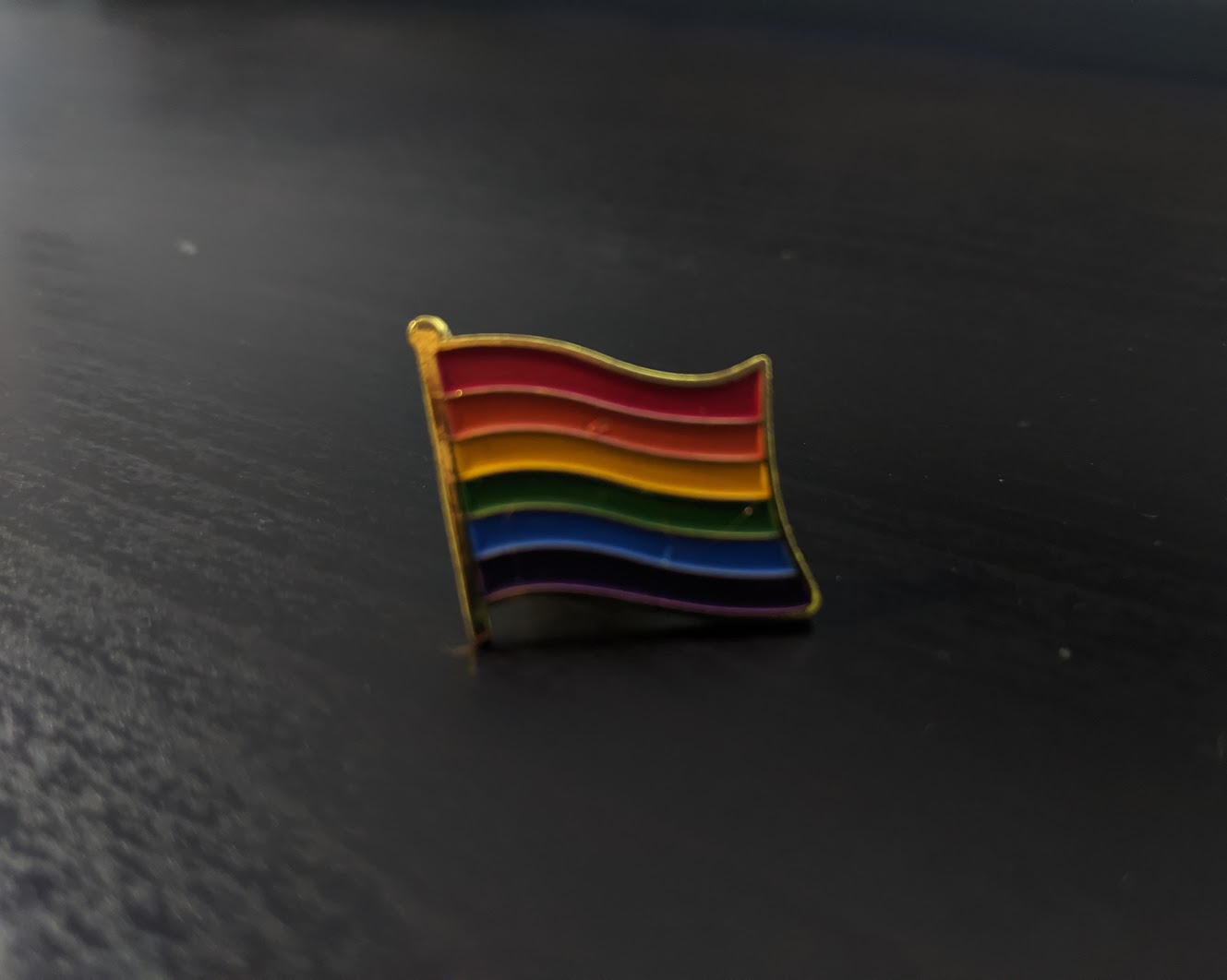 As the former president of the Sierra Rainbow Alliance, I have always felt very conflicted about Gilbert Baker's Rainbow Flag as a symbol within the context of queer liberation. The problem is that the rainbow has come to resemble the many problems with contemporary queer culture.
Corporate commodification and appropriation of pride has reached a crescendo, and Rainbow Capitalism, as it is often called, is certainly not queer.
It has also come to be a symbol of de facto racism and transphobia in affluent, able, white, cis, gay, male spaces where people so often forget that having one marginalized identity does not absolve them of the duties imposed by their dozen privileged identities. Everyone has a duty to interrupt all systems that give them privilege, and the rainbow flag has in many circles come to represent the people who choose to ignore this fact.
I typically only associate myself with the rainbow flag or wear it when in mixed company that isn't informed on these nuances. I would love to find a progress pride flag enamel pin, but as yet I have not.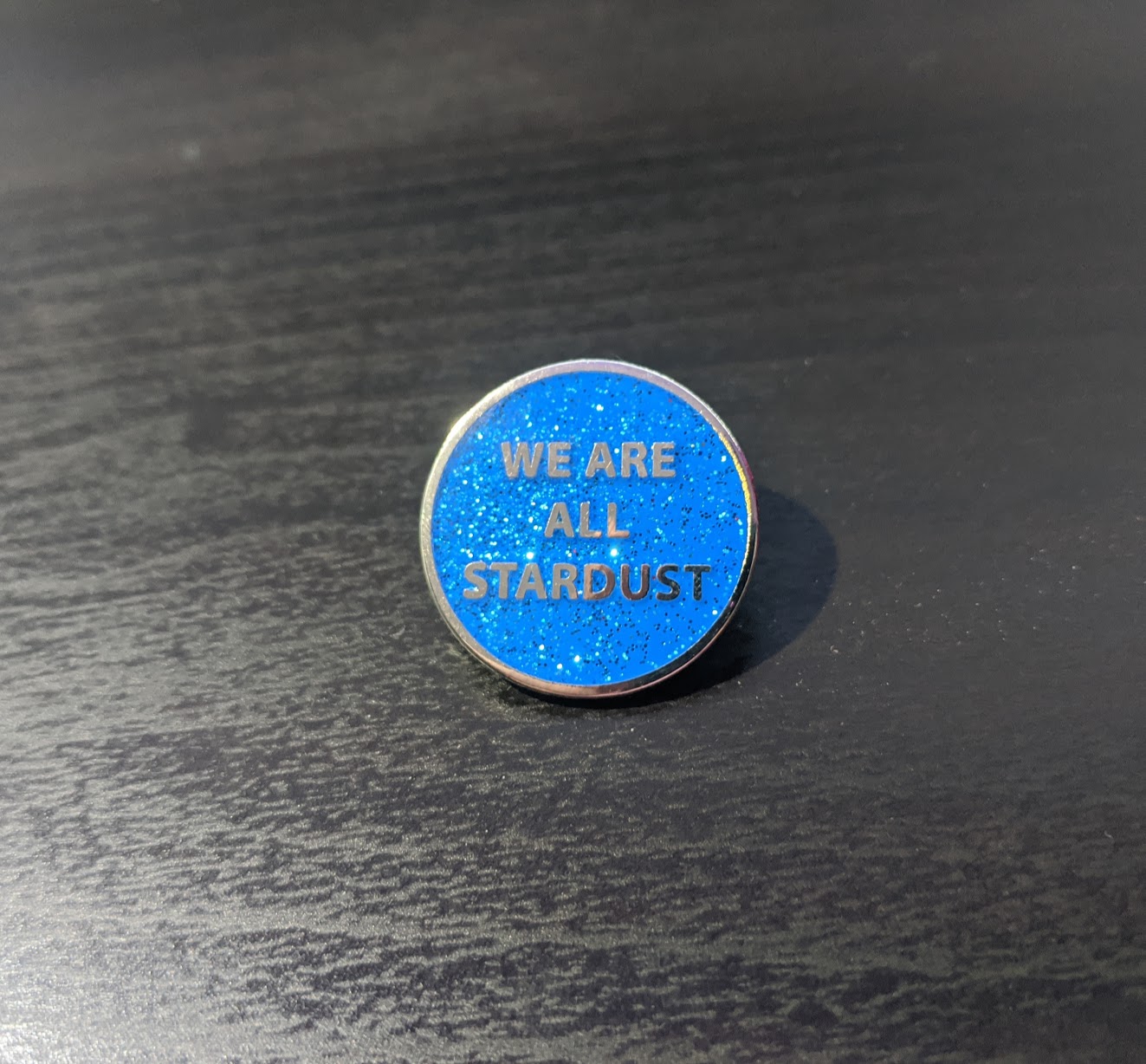 This one caught my eye a long time ago, and I finally added it to my collection. Did you know that earth is orbiting a third-generation star? Two solar systems have been born, lived out their lives, died, and been reborn before the current one we are living in. Here's a reminder of the immediacy and impermanence of our small, momentary existence. Available on Amazon.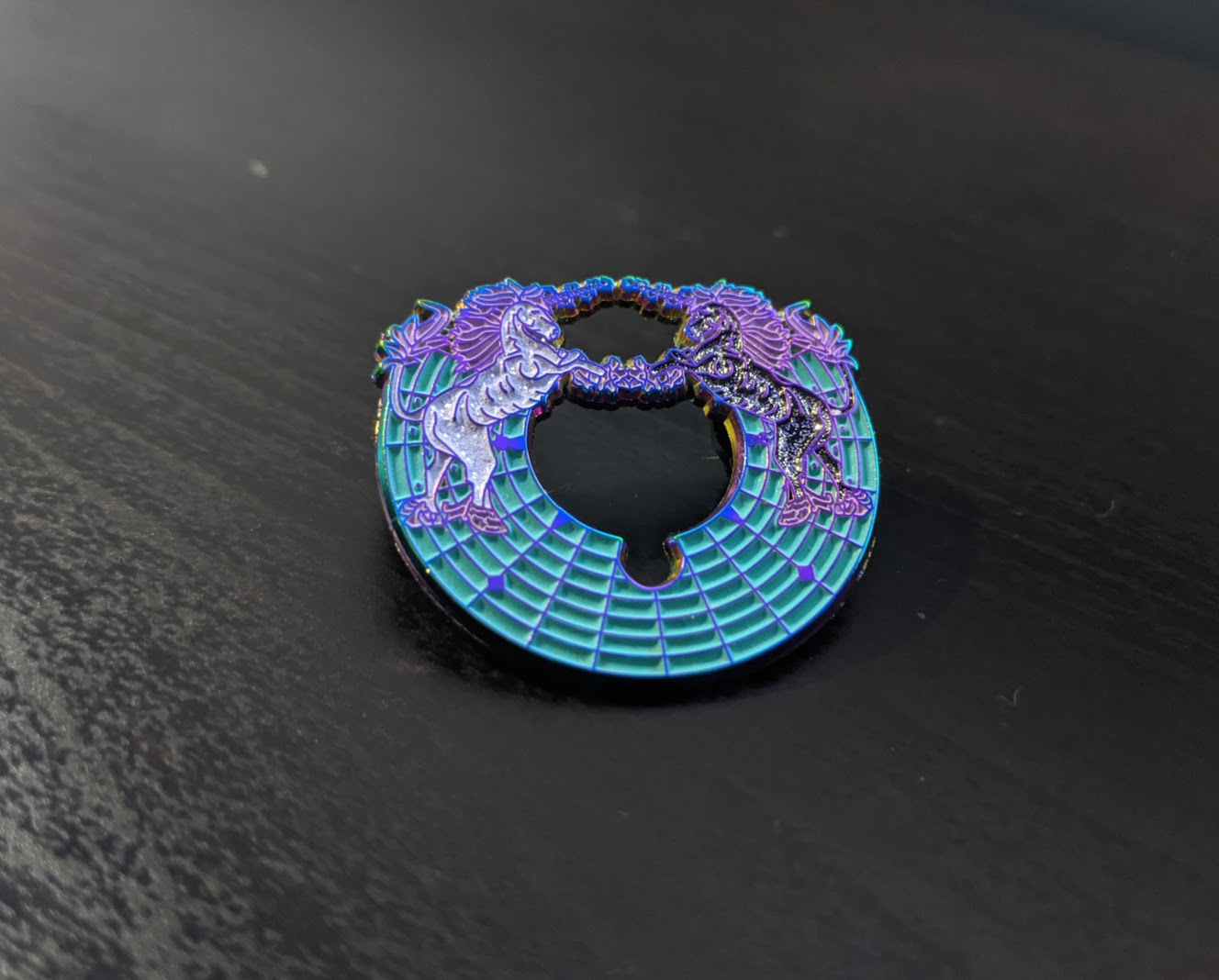 This magical Burning Man pin actually glows in the dark. It was one of last year's camp gifts from Sachi at Unicorner. They are a magical group. You can find Unicorner at both playa and city events like decomp and precomp. I'm not sure if they still have more of these, but I'm sure their future work will be even more magical! ✨✨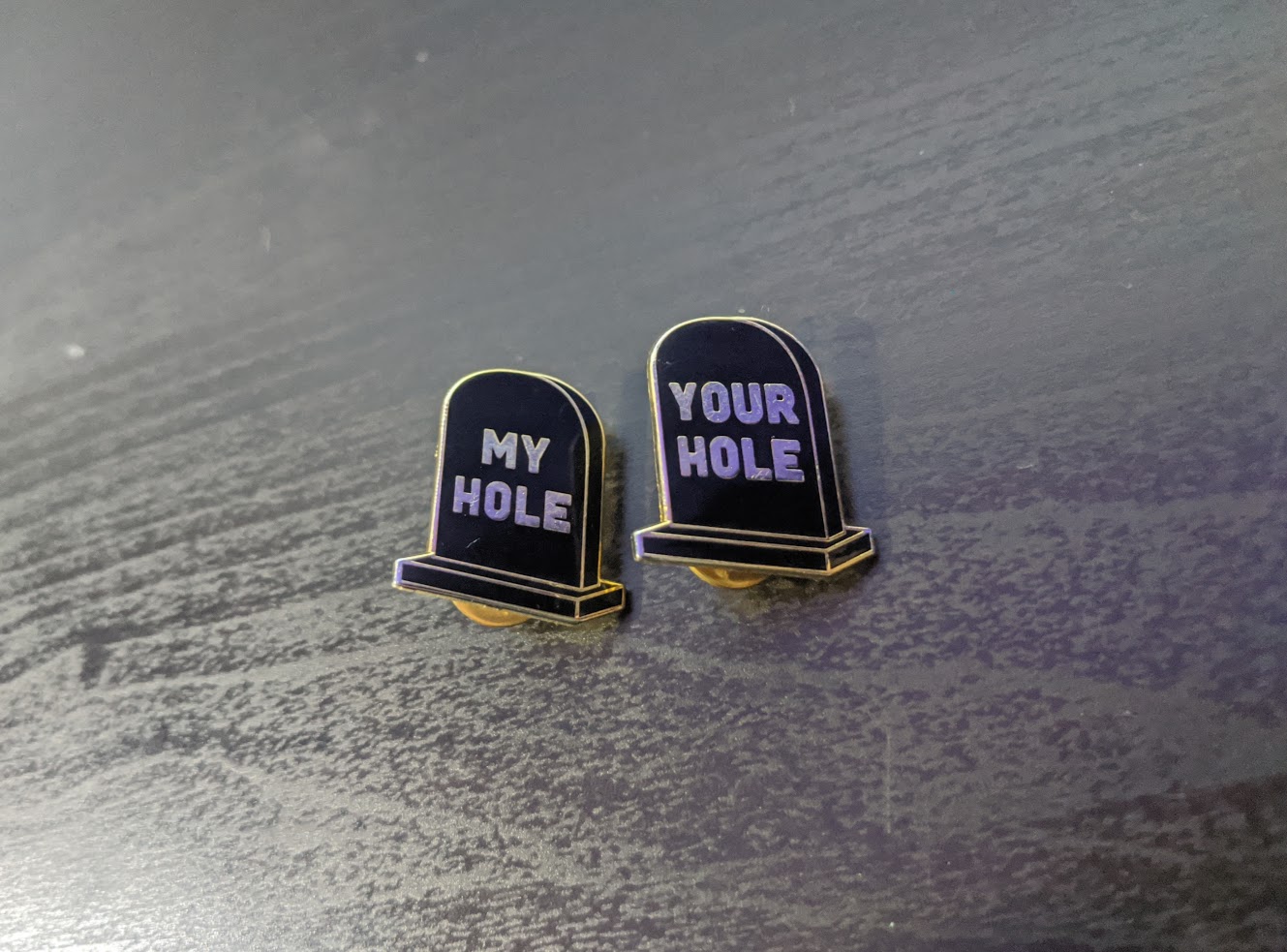 In an age where rigid identities trap people into limiting their sexual behaviors and exploration based on whether they identify as a top or bottom, it's very queer to reject those categories just like many reject gender categories. Wearing these pins together at events like Dore and Folsom, I get many comments of approval while bar tending or just walking around. I definitely recommend them!