As a sociologist, this was an interesting read. This book explores the issue of systemic sexism from a philosophical perspective rather than a sociological perspective. It also articulates a normative ethical framework for considering the issue, and the implications for what duty we have in response. This is exactly the topic I most wanted to explore and learn about at SFSU.
Imagine the question, "Why is it wrong to sexually harass women?" It's very difficult to answer this question logically, because most logical frameworks we have today include sexism, being created by proudly sexist religions or cultures in the past. Logic fails the task of answering the question from most historical perspectives. Even the perspectives that make the attempt fall short.
Manne argues that down-moves (or moves that subjugate) are bad because they steal agency from subjects and force them to be objects instead of subjects. This is her fundamental claim.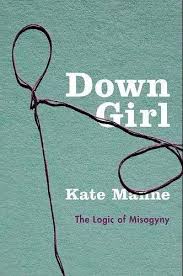 The book assumes from feminism the claim that systemic sexism exists as an aggregation of microaggressions. These microaggressions are necessarily misogynistic, having the form of "down-girl" moves. These are acts which subjugate women on the basis of gender. Manne calls this argument the ameliorative approach, because it implies that the duty is not to discuss statistics about inequality, but to directly confront misogyny. Rather than talking about the social construction of inequality, we can focus on ameliorating acts that subjugate women.
I really like this argument because it implies a larger issue for all systems of oppression. If there are down-girl moves then there are down-black moves and down-gay moves. It's easy to see how Manne's ameliorative approach shifts the focus from measuring and discussing disparate impact to instead finding and ameliorating the root cause of that disparate impact.
This has really changed the way I think about budgeting the energy I spend working on these issues.