Phase-One
This is the final draft proposal for the pilot project to tie into the new borg network. If successful, the project could eventually deliver WiFi to the Queerborhood (7:30 sector). There have been several changes of priority since the first draft of this proposal. This final version features a mast with a microwave dish to tie into the borg network, a wifi router, and three range extenders which distribute the connection throughout our camp. This way, later we can add more extenders as well as load balancers in a future phase. This is intended as a first step in a larger long-term project.
For a brief description of my relationship to this topic; I am a licensed FCC Radio Tech (KK6VJX) with two decades of experience in supporting computer networks.
Normally, we would need to install enormous masts to connect to the borg network, but luckily we have three semi-trailers which stay in the camp throughout the burn. This means we can place smaller masts on top of the trailers in order to tie into the network. Specifically, I am recommending a "non-penetrating" mast designed for flat roofs. Instead of weighing it down with bricks, we will use two pairs of three ratchet straps to tie it around the trailer.
Per the borg's recommendation, the main connection is a Ubiquiti NanoBeam microwave dish. This is wired into the junction box on the mast where a cheap wifi router takes the connection from the microwave dish and distributes it via wifi to the camp.
Throughout the camp, cheap wifi repeaters extend this signal to make sure our network reaches the entire camp. These will be included in the junction boxes of our power grid's new distribution substations. During the proposed second phase of this project, additional masts will be placed in various locations and tie together via a load balancer which then feeds into our wifi. This means that if there is any problem with any of the masts, the other ones will continue to work. At that point, any neighboring camps that want to tie into Queerborhood.net will simply need to use those cheap wifi extenders to tie into our system since we are doing all the heavy lifting of connecting to the borg network.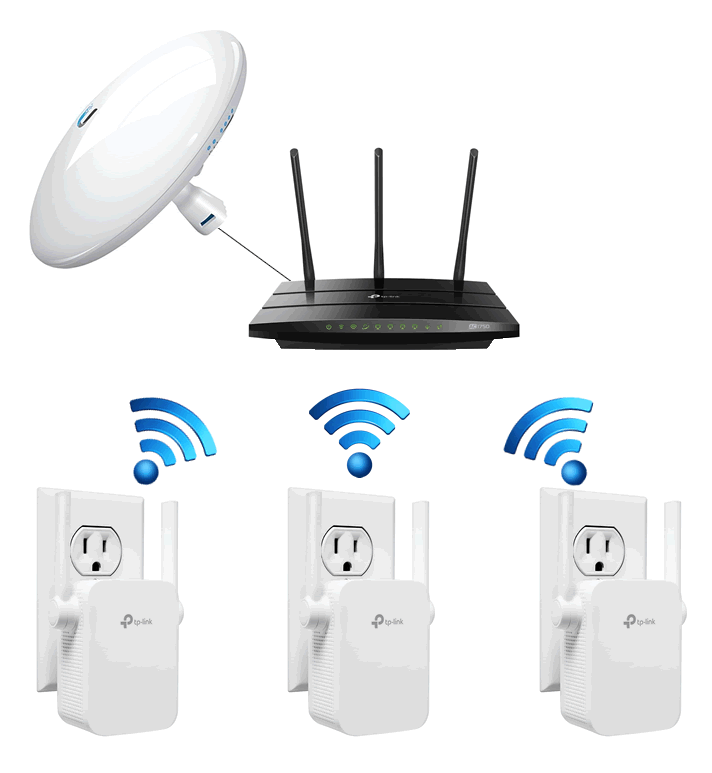 Parts List For First-Phase