Version 1.0
First let's look at the finished product! It was inspired by the scene in the original Blade Runner when Decker  is chasing Zora and she is basically naked but wearing a transparent hoodie or poncho. I liked the ironic way that her clothes sort of Queered the expectation of clothes as hiding what's underneath, and stuck just to the fundamental purpose of staying dry.
Also, this project was delayed slightly because I was rear ended on my way to the fabric store and had to wait nearly a week to go back! The price I pay for looking weird.
How To
Okay so the material came from Joann's. It's just clear vinyl. I bought a few yards of it and have tons left over for other projects. This was about $5/yard. Here's what the whole thing looks like, turned off.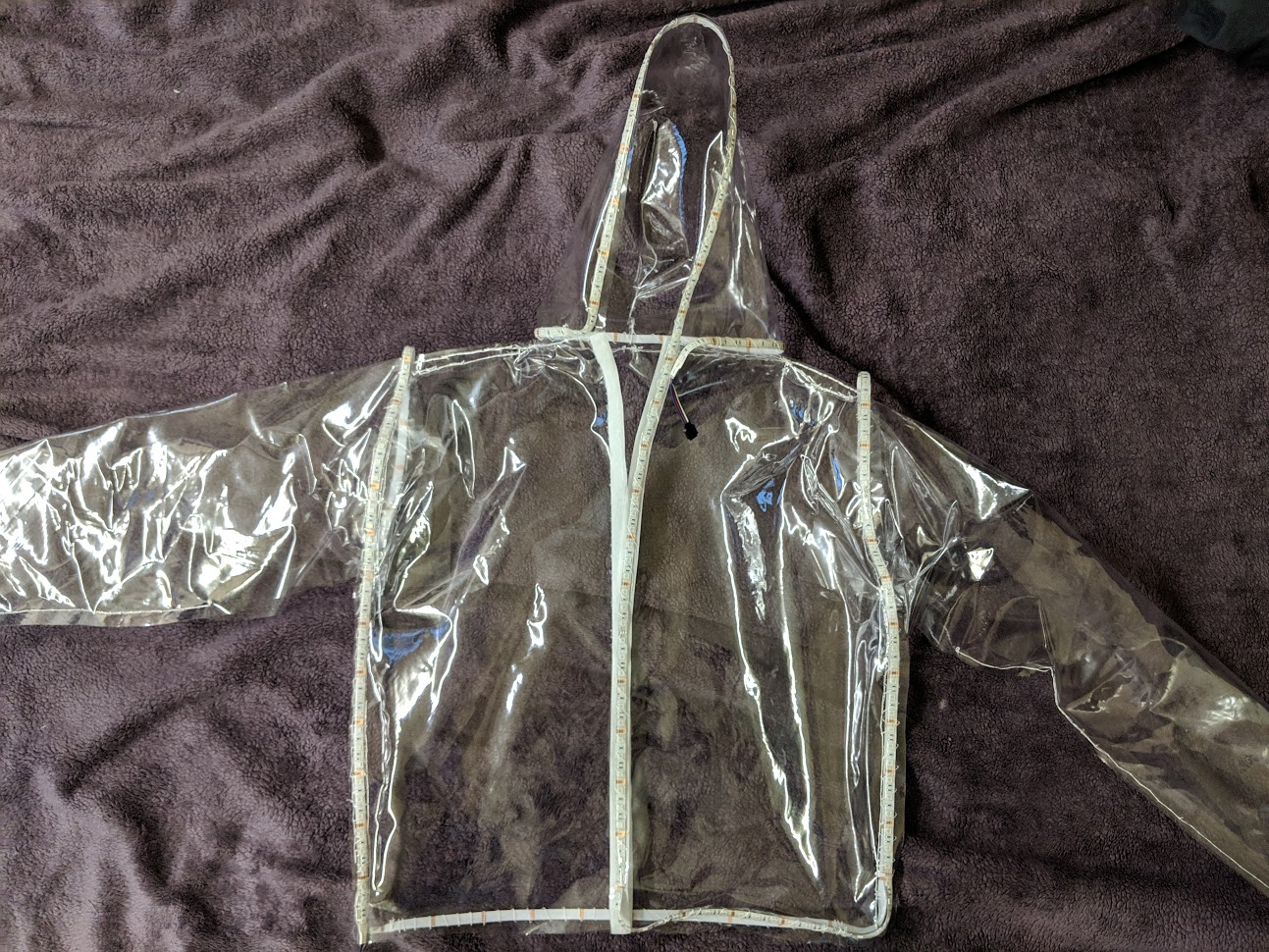 Once I got home with the fabric, I laid out a basic H&M hoodie over the clear vinyl and cut out pieces of vinyl that were roughly the same size and shape as each piece of the hoodie. Then I stitched the pieces together with quilting thread and a hooked needle. This took some trial and error. Be aware that the tension of putting the hoodie on and taking it off will damage the seams, so for the collar and under-arms, you will want to do like four or five seams to keep it from coming apart. I would recommend using pliers to do the stitching because the vinyl is really tough and it will tear your fingers apart to try to do it with fingers.
In place of a zipper, I used velcro which I also bought at Joann's. This also made for a sturdy surface to attach the lights to. I am a little nervous about the lights being delicate and getting damaged if they fold too much. It might be worth exploring a way of stiffening them up by attaching them first to a rigid piece of webbing or something?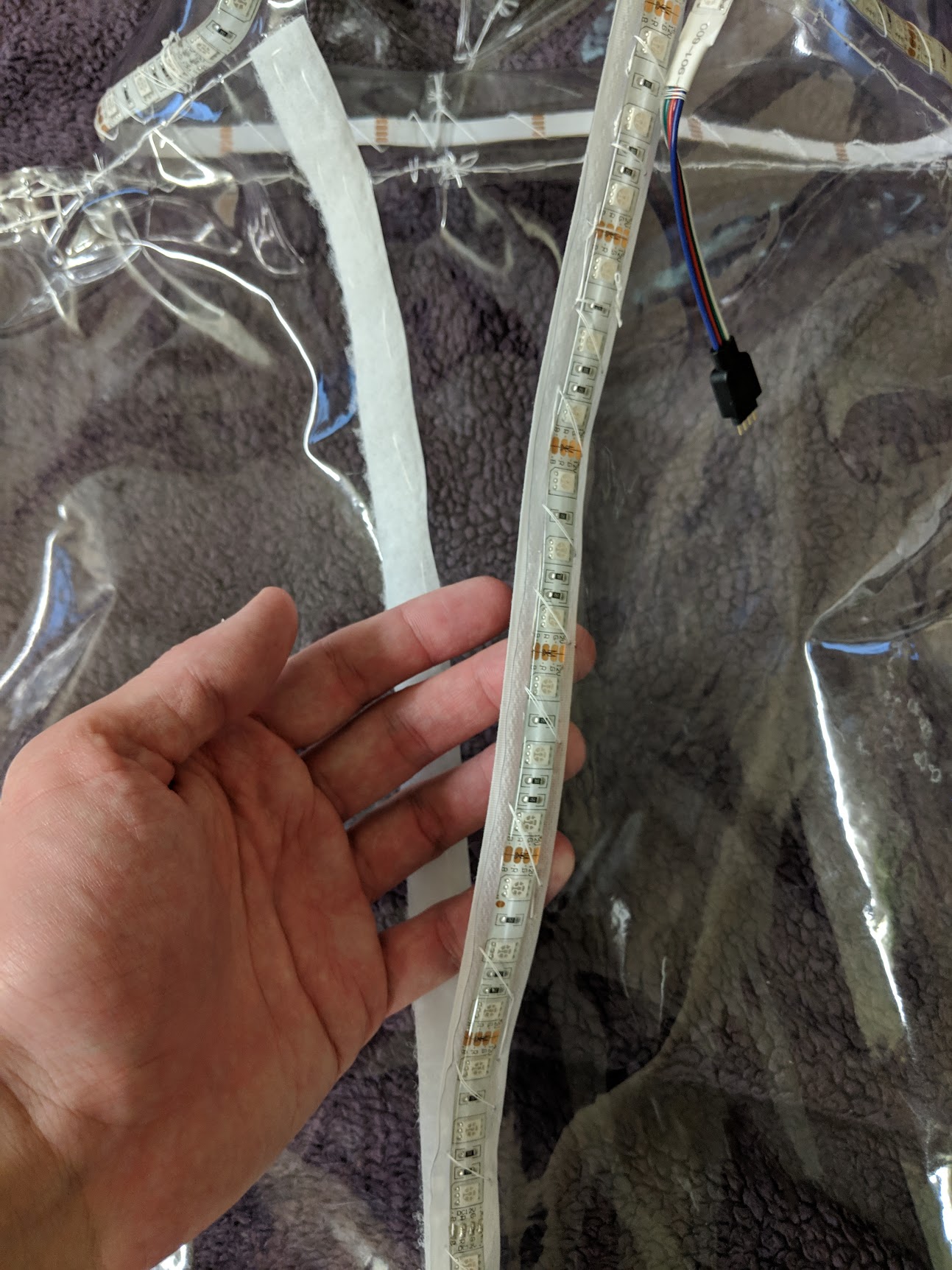 The length of LEDs that I got was perfect to leave a daisy chain connector next to the hood. This way I can later add more LEDs going out both arms if I want. I think this might already be a lot. lol.
The main power coming into the lights is arranged to be down at the corner of the hoodie close to the pocket. This works out perfectly.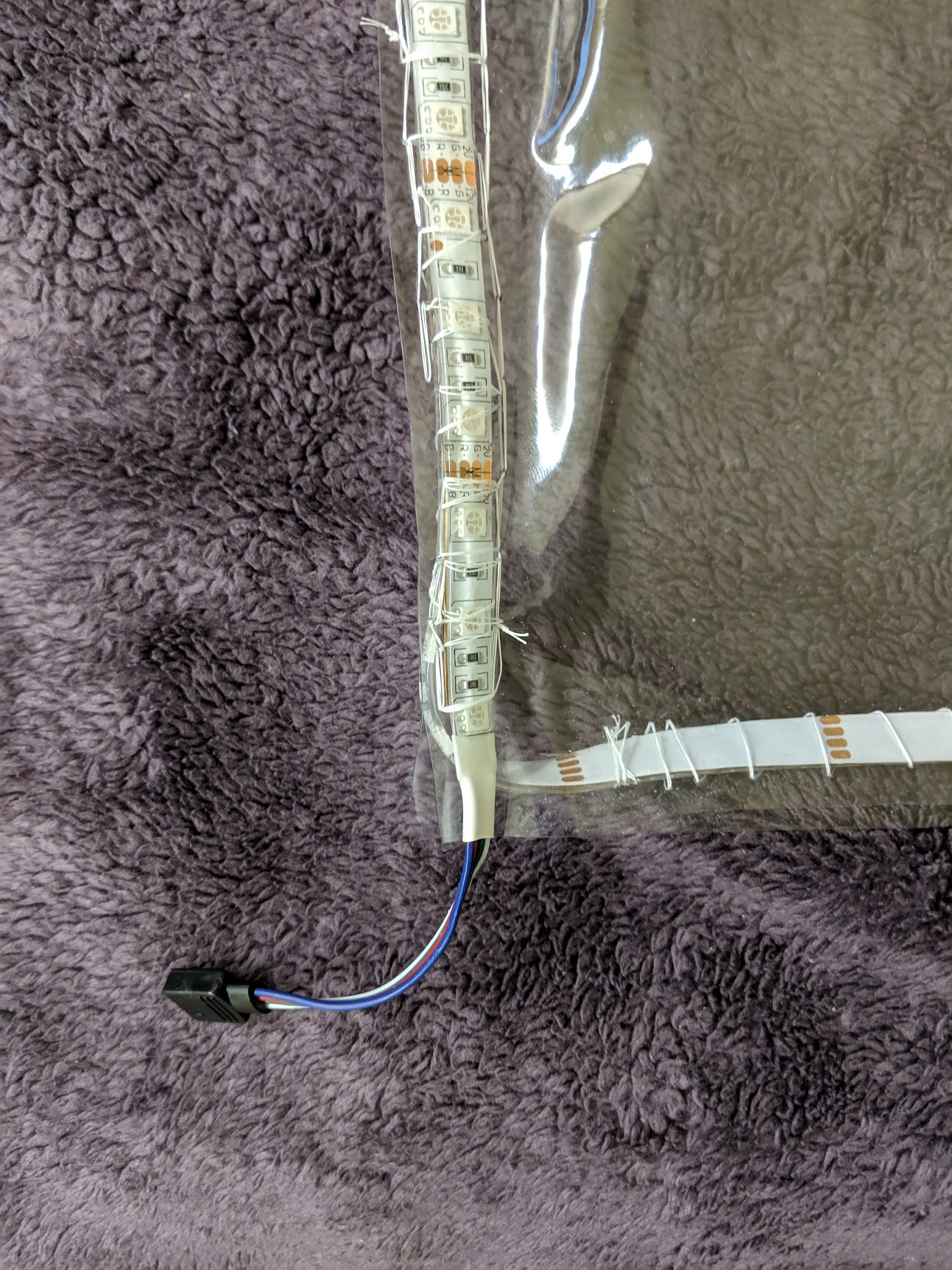 Here you can see the actual power hardware all hooked up. In the center, the controller connects the battery to the lights and accepts the command. The battery is the black box connected to the controller. The remote controls the colors, on/off, effects, etc for the lights. All of this fits comfortably into my pocket.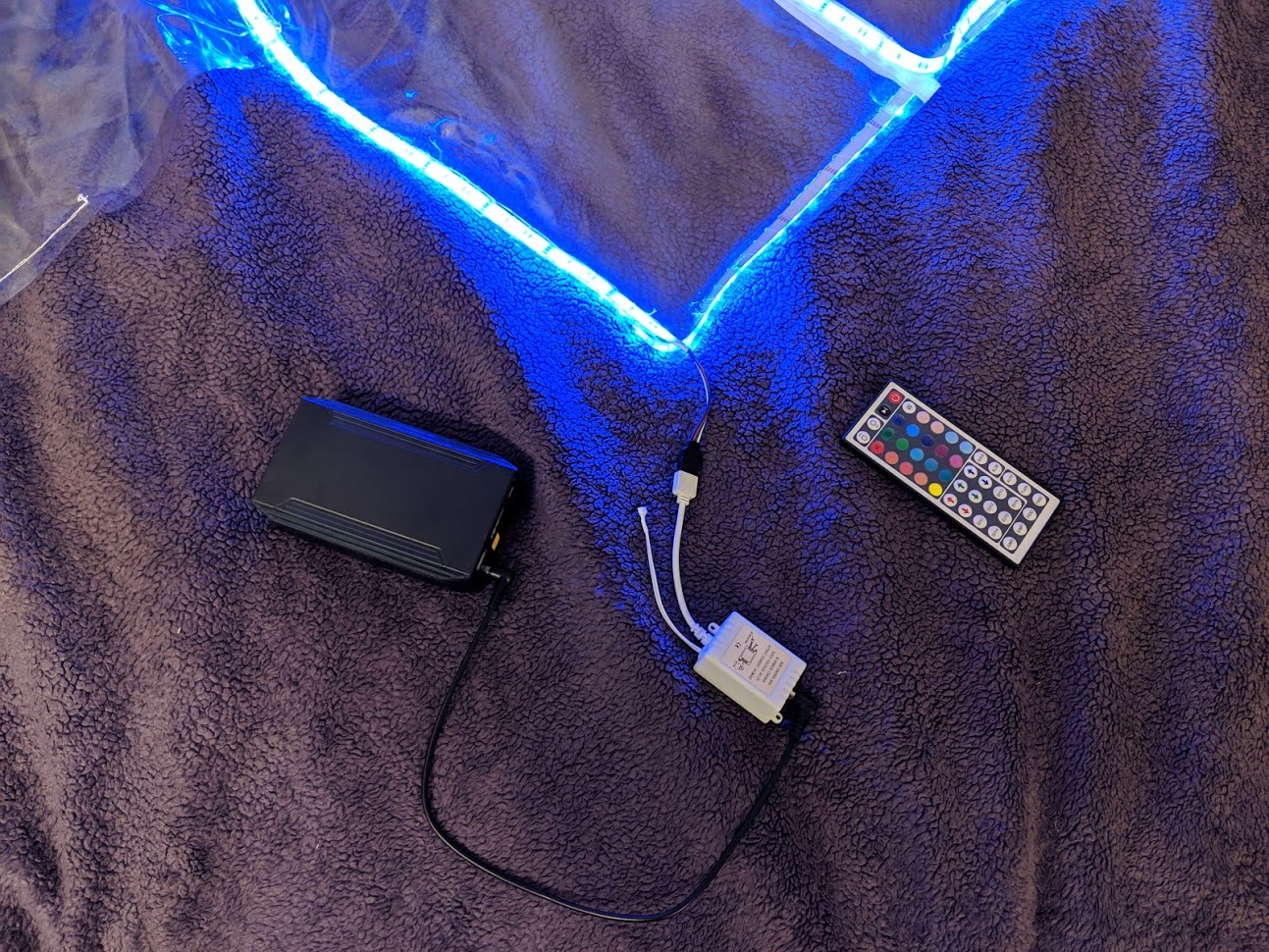 My Parts List
16.4 ft waterproof (playa proof) LED Strip Waterproof is the way to go. That means it will come coated in silicon which will keep the dust out at the burn.
72 watt Lithium Battery This is a really great battery which I plan to use for lots of different projects. It will put out 12v, 9v, and USB all at once. And it can charge from any 12v source. Simple adapters will allow it to charge from USB. It's probably more than most people need, but a perfect battery for this project.
Lessons Learned
I feel like this will not keep working forever. It seems like the LED strip is a lot less strong than I expected it to be. I think it will be fine for the burn plus a few parties throughout the year. Version two will probably
These lights take a lot of power, and they're really bright. The power consumption is a little confusing. Purple and white light uses a lot of power (about 40 watts), where red, green, and blue use just about 13 watts each. Also, you can turn the brightness down. If you run them at half brightness and set the colors to cycle, this battery will power the lights all night. Then it simply needs to be recharged during the next day. This battery can power the lights on full-white at full-brightness for about two hours. (That's remarkable because it's a super lot of power.) But with lower brightness and non-white light, it can last a lot longer.
Probably it would be easier to use usb-powered strip lights with a smaller USB battery, thought USB strips are much shorter so you would need to use several of them.
Another alternative would be to use EL wire instead of LEDs. This is great but not very bright, and you can't control the color or make it do fancy effects. One other benefit is that you can use USB to power EL wire. So that simplifies your power supply.