This year, I have changed almost all my gear. For the first time, I have my own complete microgrid and a double-tent. I also replaced almost all non-rechargeable devices. This year, my burn will be far more sustainable and very low stress. My gear list makes all that possible.
Home Sweet Home v2
This pic is from my beta burn. I will update the photo after the real burn. Click here for a video tour of the tent! You can see a fold up table to the inside-left, and behind it the smaller tent housing the mattress. One unexpected positive with this tent is the way the tent material hangs inside the fiberglass superstructure. This means that a tarp draped over the tent is several inches away from the tent material, providing airflow in between and very effective insulation from sunlight and heat.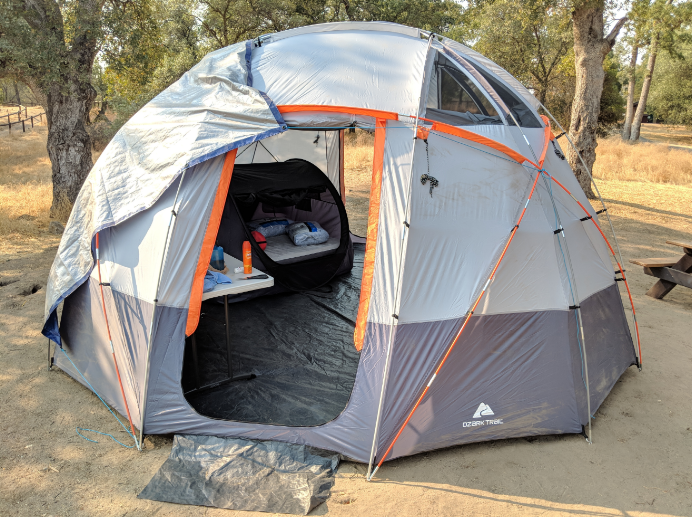 Having a double tent was a major priority in order to delay morning sun and heat from reaching me as I desperately struggle to sleep in. I also wanted to maximize my energy independence and improve over my previous
Big Tent: This provides shade and shelter from the elements. Everything but my bike goes inside. It is secured by rebar wit tennis balls on the ends of each for safety.
Smaller Tent:  This is a smaller tent made of dark material which fits snugly around the mattress. It goes inside the larger tent. This small tent provides a dark space for sleeping which is protected from dust and slows the heat from getting to the sleeper.
Self-Inflating Mattress: This is SO handy. Last burn, I had one that needs to be inflated by hand. At some point, it got a slow leak which required constant work to keep it inflated. Eventually we just gave up and slept on the ground. Never again! Just flip the switch and it's back to 100%!
Two Coolers: These were on sale for just $15 a piece. Each one holds 72 cans!
Two Chairs: I can't find a similar deal today, but when I bought these two fold-up camping chairs, they were $5 each!
One Cot/ Couch: I got this for free, and I think it will make a great couch or guest bed.
USB String Lights: For energy efficient indoor illumination. These are pretty bright and can run off of a power bank for the entire burn.
Power Source: I have my own microgrid inside the tent running off of this power bank. It can supply almost 400 watt hours which should be far more than I need for the entire burn. It is comparable to the Yeti 400 Lithium which is more than double the price.
Stove/ Dishes: This kit is so great. I really really like it and it was so cheap. It includes two small pots, a pan, a stove, silverware, a bowl, a sponge, and a carrying pouch. All of this is less than $30. I bought the giant fuel container from REI for $5. It has lasted me several years and still feels pretty full.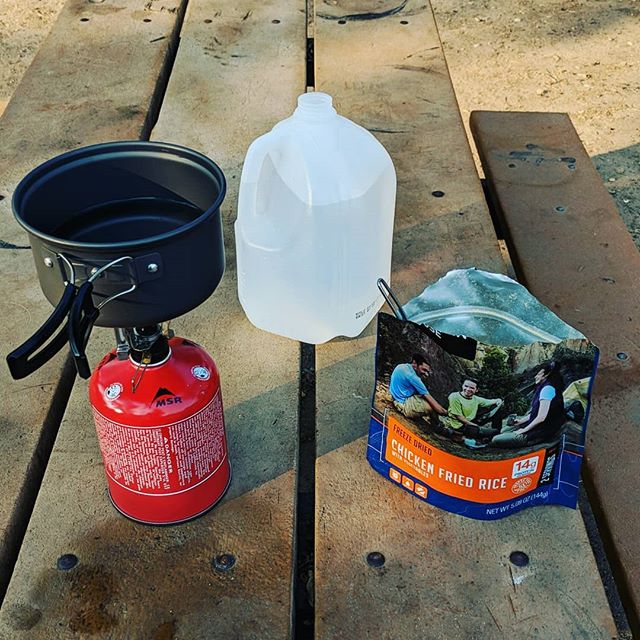 For food, I picked up a bunch of meals ready to eat including all of these below. I bought these before learning that my new camp, Comfort and Joy provides meals for campers. I anticipate sharing many of these meals I bought with neighbors and other friends.
Breakfast:
Lunch/ Dinner:
My Bike v2
I decided to try to get rid of as many battery-using devices as I could. The solution seemed obvious; USB!
Roadmaster 26: This is the same model bike I took to the last burn. They have proven very versatile and reliable. And they go back to Walmart after!
USB Bike Lights: Two strings of these lights run to a dust-proof power bank in the basket. This is able to run the lights for weeks on a single charge, and it recharges via built in solar panel. This technically makes the bike a microgrid in its own right!
Shelf: I added this shelf to the back of the roadmaster. It allows a milk crate to rest comfortable on the back. This makes it a lot easier to bring beer and snacks around with me on the playa.
Front Basket: I added this basket to the front of the bike. While the back basket is great for food and drinks, the front is great for thinks like the power bank, the lock, spare tubes, tools, etc. You don't want to find yourself in need of these things and not have them handy!
Other Accessories: I found a kit for under $20 at Walmart which contained a lock, pump, bicycle bottle, headlamp, tail light, and a bell. These kinds of kits are usually available and well worth the $20.