Barcelona is this idyllic party city on the mediterranean coast. Miles of sunny beaches (some nude) are fronted by enormous nightclubs and bars. Every homeless person wants to sell you a beer for a single euro at all hours, and you can drink in the streets. It's basically the perfect place for a getaway. I captured this picture from the plane on my way in…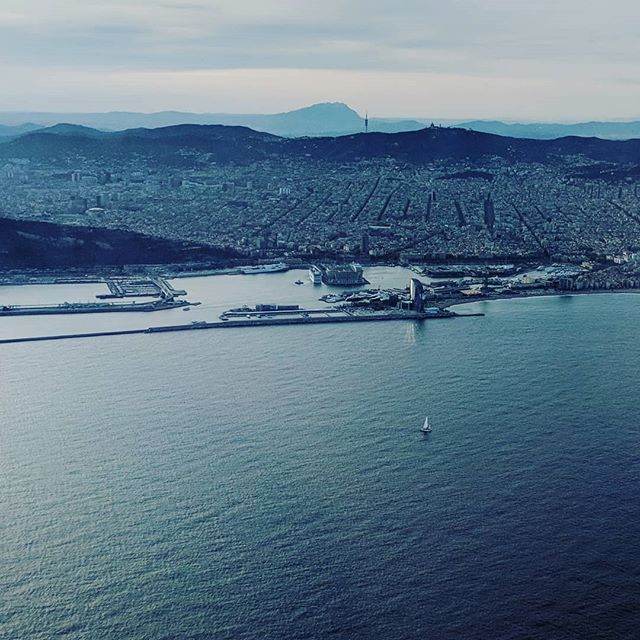 Many of the most famous sights in town were designed and built by Antoni Gaudí, some in honor of his wealthy patron, Eusebi Guell. The most famous examples are Park Guell and Sagrada Familia.
When I arrived, I checked into the Sant Jordi Alberg hostel. If you're in town to party, this is the perfect place to stay. It's cheap and in downtown and comes with great benefits. Every night, they cook a cheap dinner which is free on Sundays. They also have several other hostels around the city and every night all of the Sant Jordi hostels get together to bar crawl with special deals for everyone involved. Here is a clip from the pre-game…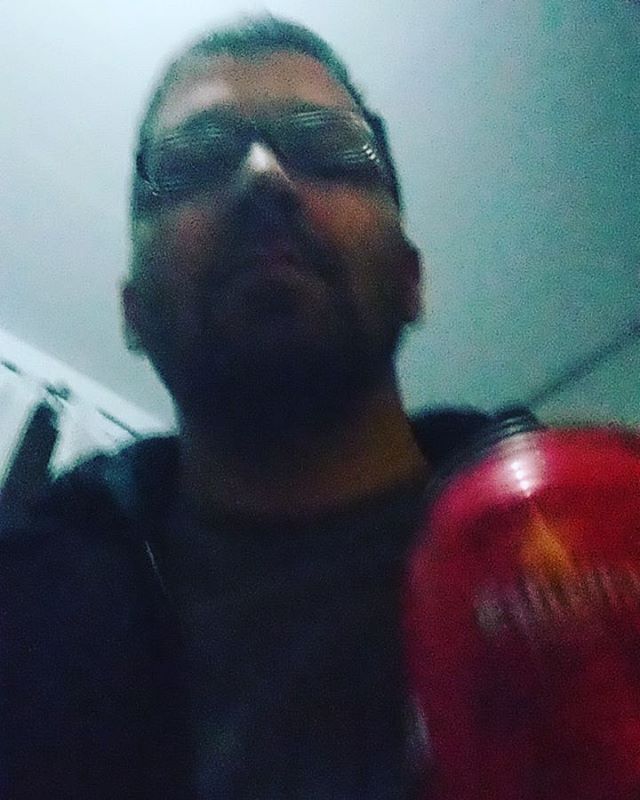 We went to a small nearby bar to get cheap drinks before we headed out to club Opiate which is on the beach. It was a really great time, and completely free except for drinks since I was staying at Sant Jordi…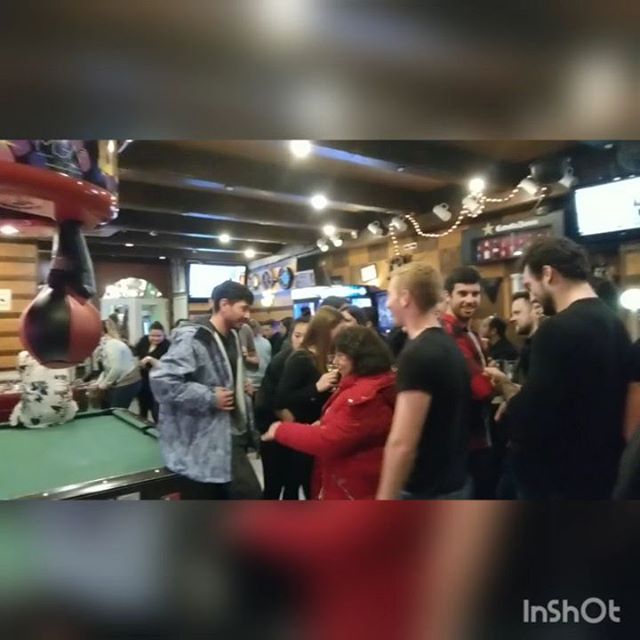 In The Morning
The next day, I caught a bus to Park Guell to start the day! A tip in hindsight is that Barcelona has these bus passes called T-10 passes. They are around $10 and give you basically ten trips on any kind of transit. This includes a train to the and from the airport. There are some busses which are private and do not accept the T-10 cards. It takes just a few minutes longer to use public transit and cut your transportation costs in half by avoiding private busses and using the T-10 card for public transit to and from the airport. It was very confusing at the time, but the Renfe train definitely accepts T-10 so I would recommend using that card only for your transit needs. Avoiding private transit might be the most useful financial lesson I learned on this trip.
Park Guell is really a beautiful and weird place. There were lots of columns and pillars topped by planters full of agave. I thought that was such a strange and interesting concept.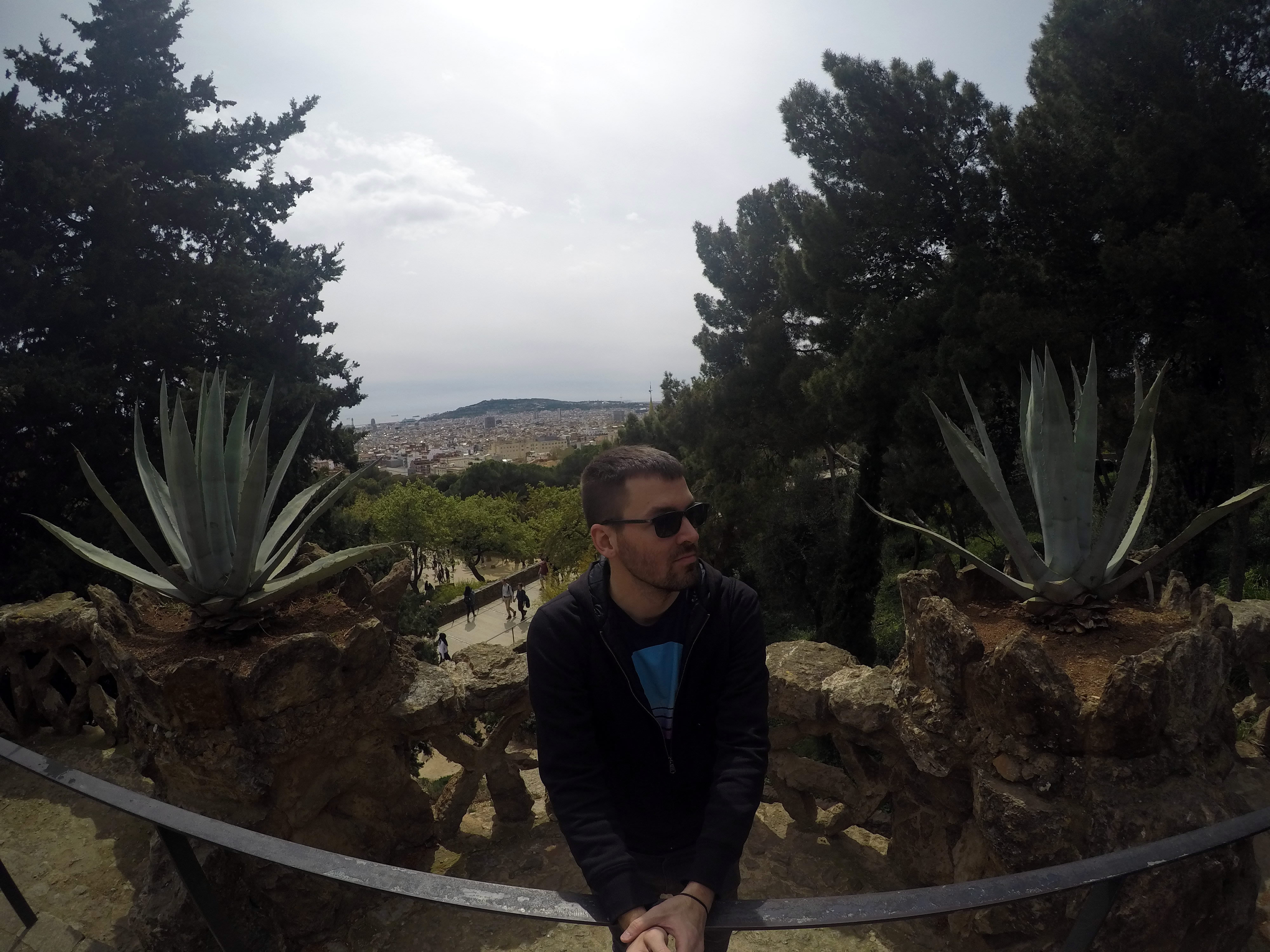 I was very frustrated to find that it costs over $20 to take a selfie with the lizard. I contented myself with the strange pavilions instead.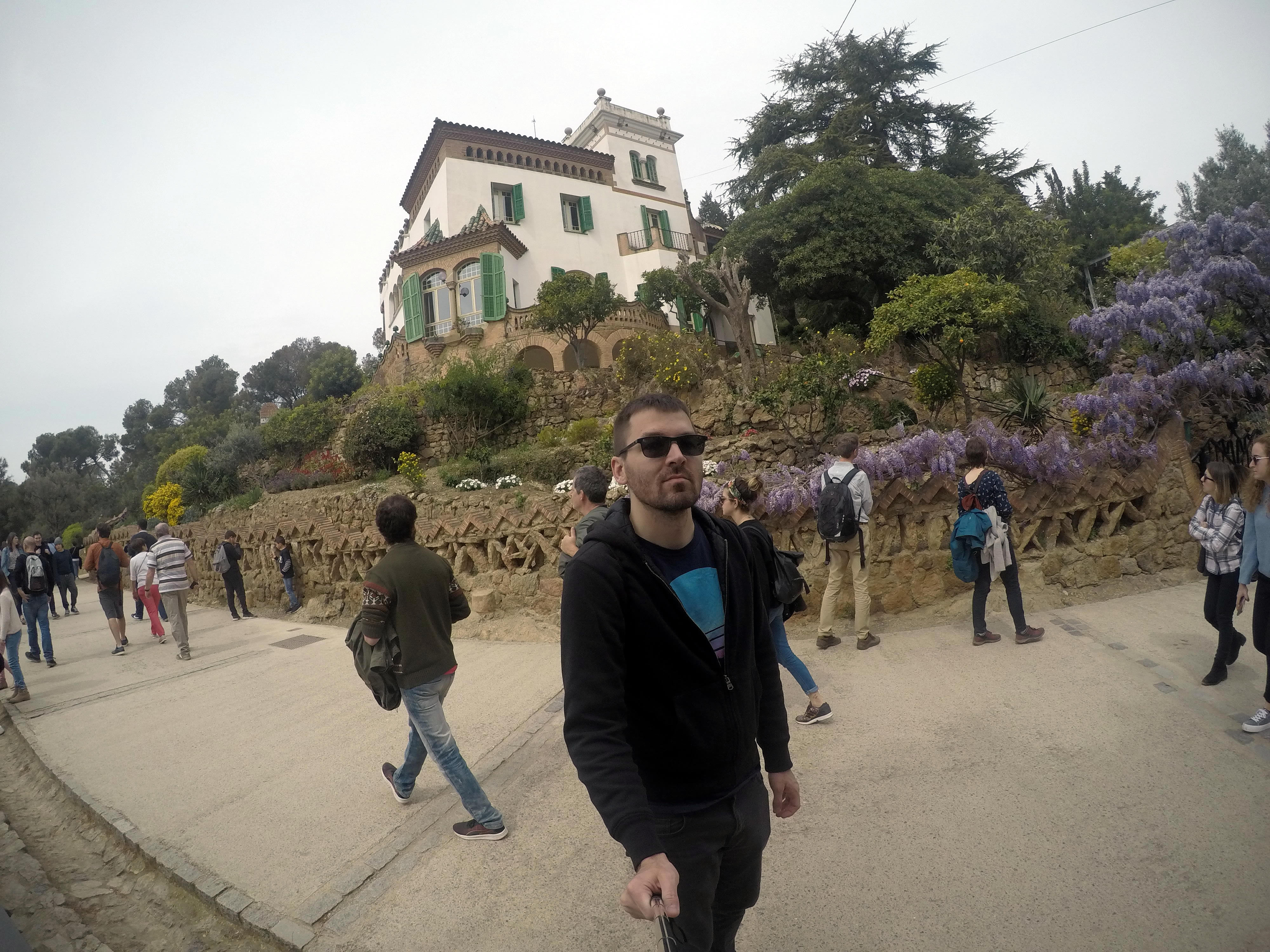 Park Guell was designed by Gaudi as a mansion park. He imagined rich people would want to live there as their residence, but they never came. So it was handed over to the city as a public monument to Gaudi's bizarre architectural style and devotion to his religion. It really is a stunningly beautiful place.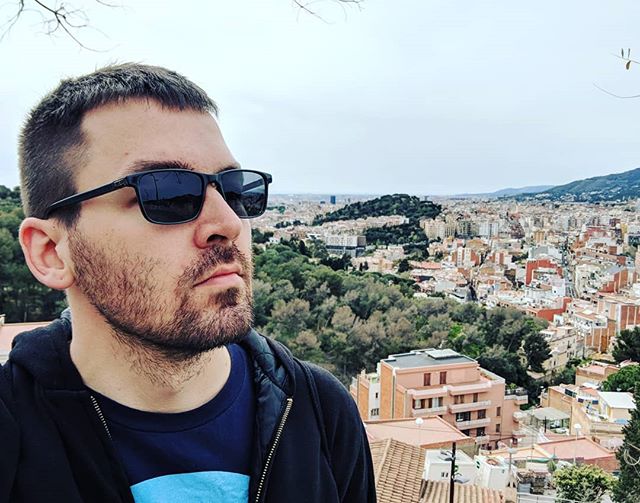 Next, I headed downtown to Sagrada Familia! This basilica was also designed by Gaudi. Its construction has been funded entirely by private donations and so far has taken more than a century to build. Construction is not expected to be finished for several decades.
It's hard to capture the complex insanity of Sagrada Familia. There is just so much going on everywhere on its surface, and it all has some esoteric religious meaning.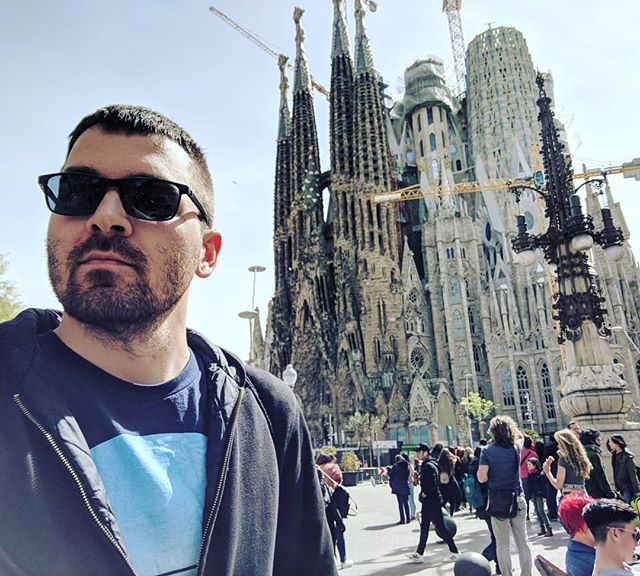 I had enough religion for the day, so I bought a tee shirt and headed to the gay nude beach!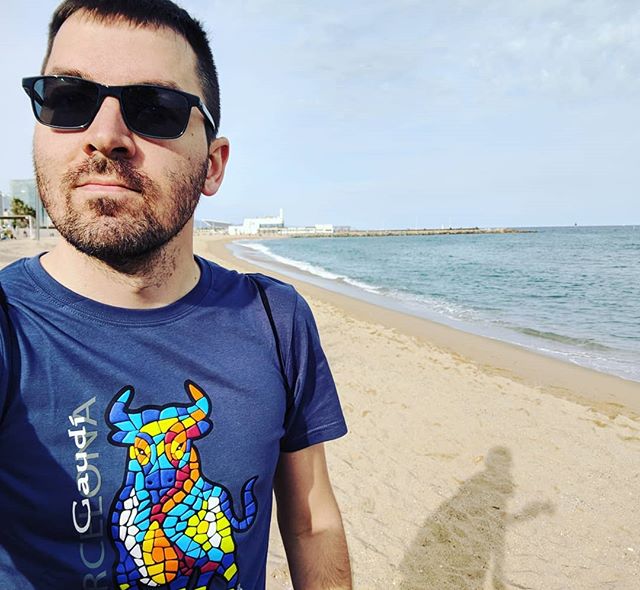 The mosaic bull is a famous motif of Gaudi's and it makes a really striking tee shirt. It got a lot of looks from people. Sadly, it was too cold at the nude beach for me or anyone to disrobe, but that didn't stop me from enjoying a cheap beer at one of the many bars on the beach.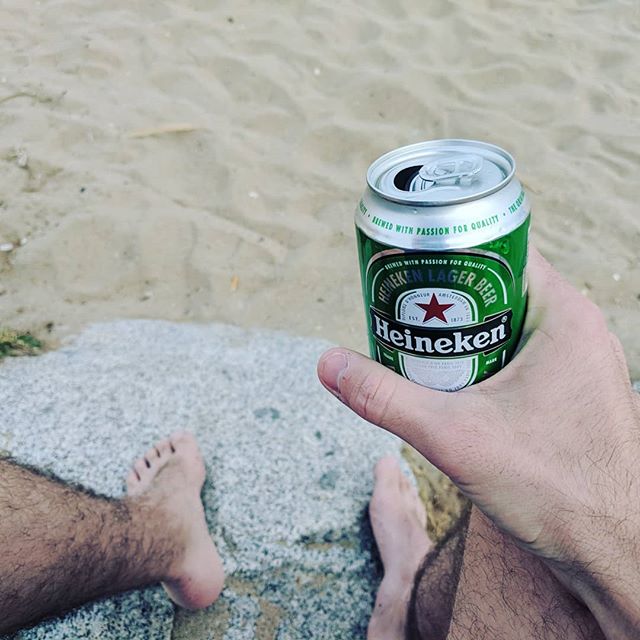 Takeaways
Barcelona is a complicated place. It is capitol of a region called Catalan. They are officially a province of Spain but they have a separate language, culture, and history. There is a lot of political turmoil around the desire for Catalonian independence. Catalan's entire elected leadership was recently arrested after holding a successful referendum for independence. My understanding from talking to locals is that the Catalan region provides a great deal of the tax revenue for Spain but sees very little benefit compared to other cities in the nation. Recently there was some rioting but everything was calm and peaceful while I was there.
In Barcelona, the symbol of the bull has a complicated double meaning. The mosaic bull is a common motif of Gaudi and the way his strange and prolific work defined the unique aesthetic of Barcelona. But the non-mosaic bull stands for Spain and its political domination and subjugation of Catalan despite it's open desire for independence. According to news reports I read, almost all non-mosaic bulls in the region have been vandalised or destroyed; including statues, billboards, advertisements, and any other place a Spain-style bull is depicted.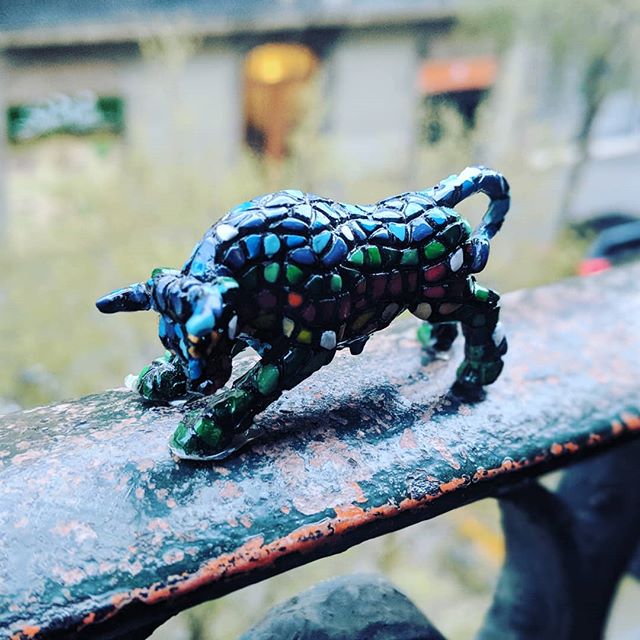 All the politics and conflict aside, this is definitely a party town at its core, and a cheap one. I would recommend Barcelona and especially Sant Jordi to anyone who likes to party and wants an idyllic destination to explore.
From Barcelona, I headed home for now.
Until next time…