I have spent a couple weeks now getting to know this machine before posting this Asus C302CA Chromebook Review. Overall, it is a great machine and a perfect for for a student and software engineer like me. There are a couple imperfections, but this is a really great laptop which I look forward to using on a daily basis.
First, a little about what I am using this for. I am a full time student at two different colleges taking close to a dozen classes simultaneously. I am also working on completing The Levels Challenge, or building twelve startup products in twelve months. I do LOTS of coding and command-line server administration as well as taking notes in class and completing homework assignments.
I searched for months before deciding on this exact laptop. The close runner-up was the Samsung Chromebook Pro. The specs were very similar, but this one has a much better processor.
Killer Features
USB-C charging: This laptop charges from a normal phone charger, just like my LG V20. That means I only need one charger total for both my laptop and phone.
Apps: The Asus C302CA Chromebook runs any chrome apps, like all chromebooks. BUT, it also runs any Android app! This is an immense advantage which gives this laptop far more power than previous Chromebooks. I have absolutely loved having easy access to apps like Robinhood and JuiceSSH without needing to pick up my phone.
Battery Life: I am a power-user and I have high demands of my hardware. I use this all day long on wifi with medium brightness, and it lasts all day. I have been using for almost two weeks now. I charge it only while I sleep, and it has never died despite near-constant use all day long.
Screen: The Asus C302CA has a full 1080p touchscreen. This is a must-have as a professional software engineer, and incredibly useful for testing and implementing mobile-first interfaces.
Cons
No Quick Charge: This was almost a deal breaker for me. And it would be, if not for the fact that the battery lasts all day with no trouble. This combined with my Anker Powercore 26,800 mAh battery, means I have more power than I need.
Android Apps still in Beta: Unfortunately, the Android app feature is still in Beta, though I have heard that should be done soon. I have had a couple small issues with Android apps not working correctly under some circumstances. For example, JuiceSSH is really really great, but if you switch tabs and come back, some of the keystroke integrations stop working. This means restarting the connection which takes a couple extra seconds. Also, I use hangouts, and sometimes I will get multiple notifications for text messages. I'm sure both of these issues will be ironed out soon, and they are by no means deal breakers.
Accessories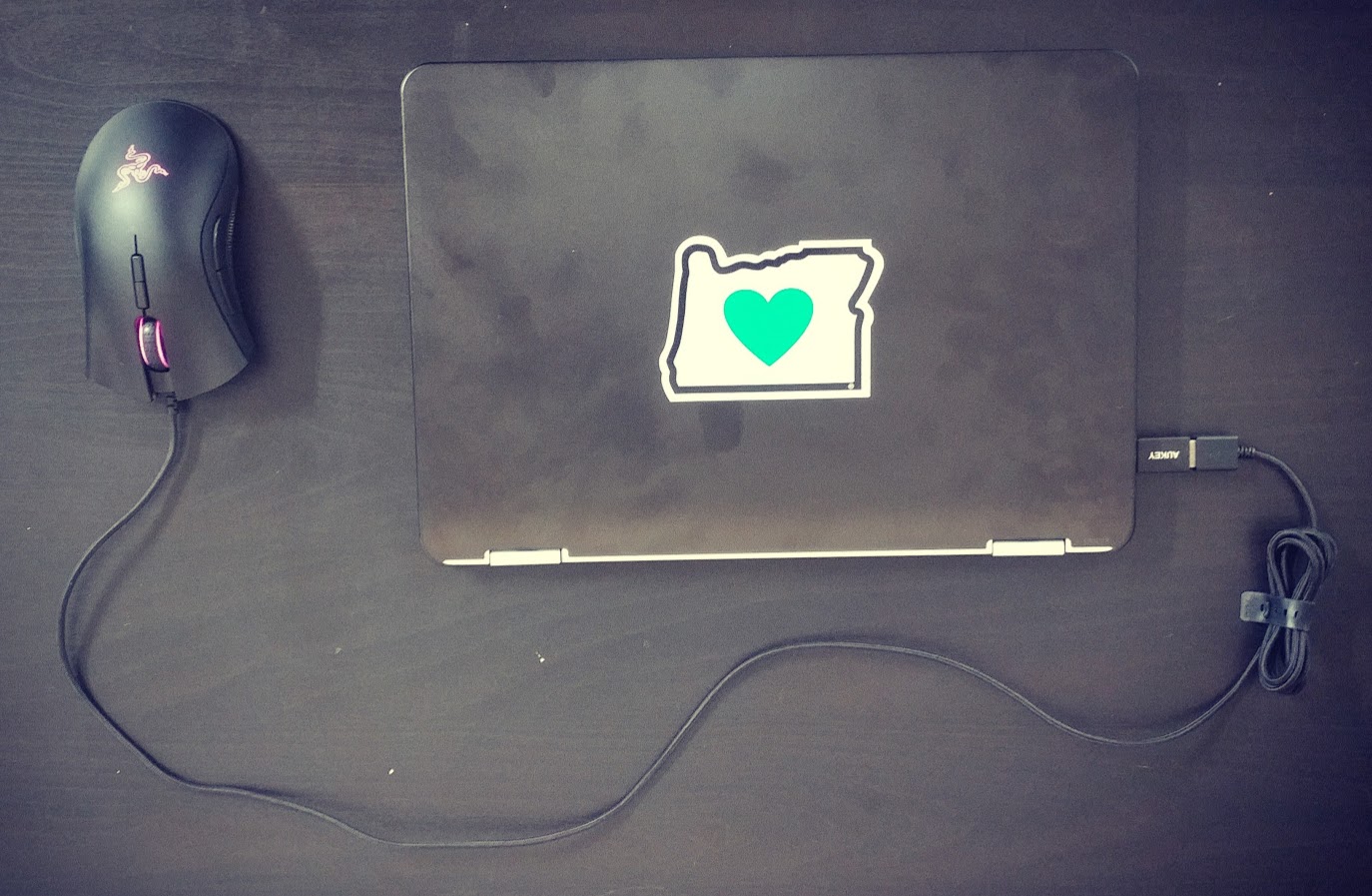 I got a sweet case to keep it safe from scratches and drops, as it is all aluminum outside. This was the only case I could find which was available for this specific model, and they have lots of color options. Black does show fingerprints. Obligatory Oregon sticker.
Be aware that with that case on, it won't fold all the way back into tablet mode.  =/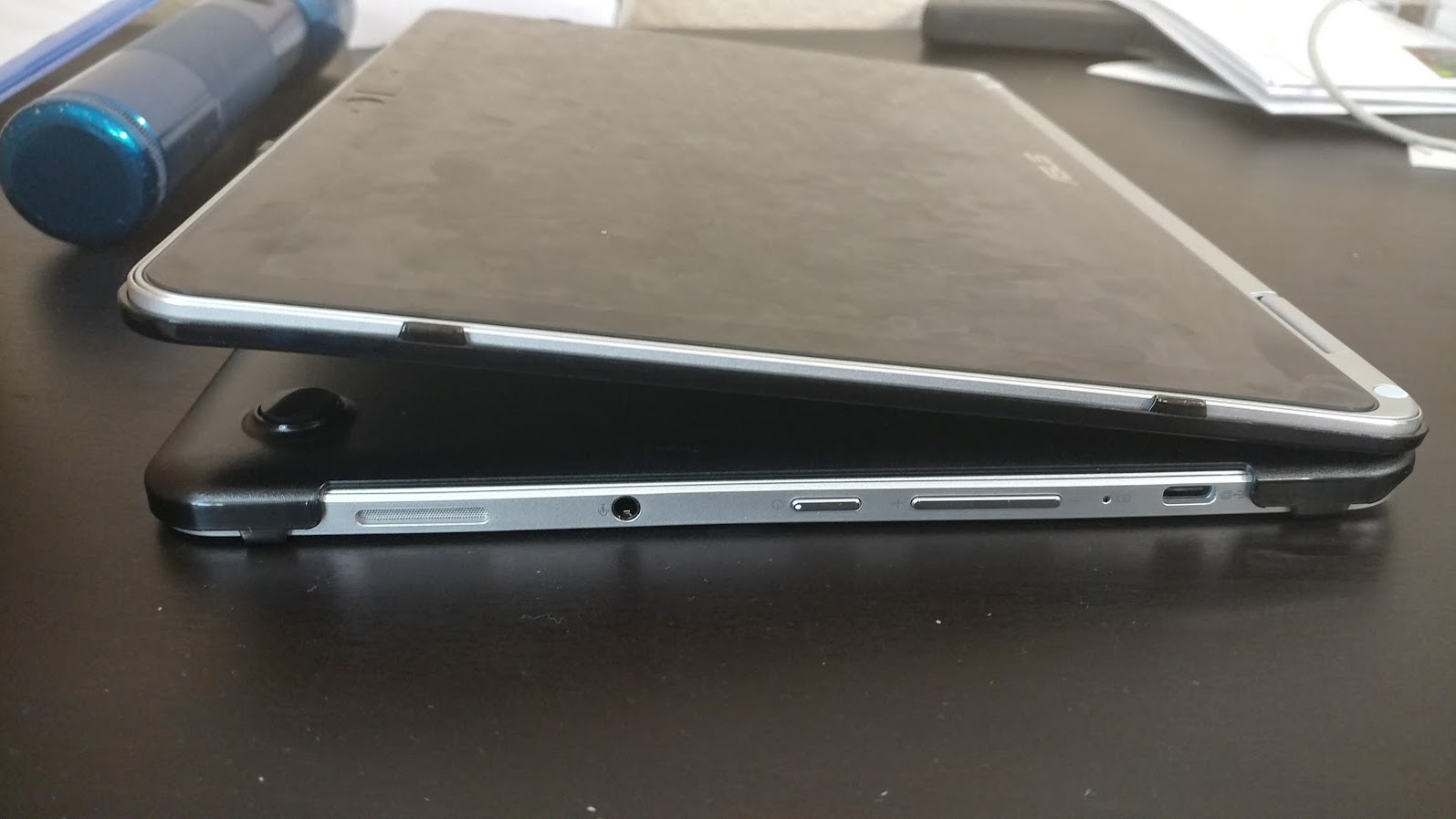 This screen protector was super easy to put on, and made no noticeable change in touch-sensitivity. It does add a little extra glare and it loves fingerprints as you can see in the photo above. With the brightness turned up to about medium, it's hard to see any fingerprints.
I was stoked to see a cheap pair of USB-C to USB-A dongles on Amazon. These are great. I wish I had known about these years ago for my phone! I am currently using one with my Razer Deathadder Elite mouse which works perfectly.
Bottom Line
I give the Asus C302CA Chromebook a 9/10. I'm sure they will fix the small issues I have noticed pretty soon and make it an easy 10/10.