I've just finished reading Divergent which is currently ranked #1 on the New York Times' best seller list for "Children's Fiction." I saw the movie and couldn't decide if I loved it or hated it, so I decided to give the book a go.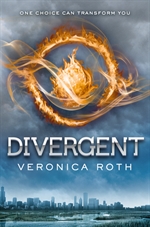 At 487 pages, Divergent flew by. And that's no excuse for the utter lack of dimensionality and depth in the characters. I was apprehensive when I read that the story was about people who resist classification by their society. But I assumed character development was missing from the movie because it was adapted from a book…
The majority of the book is the lengthy internal dialogue of a teenage girl thinking about her feelings in a world which doesn't understand her; punctuated by occasional gunfire.
What I liked about the movie was that though the characters didn't talk much, they said a lot with the prose of glances and body language. The focus on dystopian imagery was great, and both of these things were absent from the book.
The majority of character development involves a relationship between the protagonist and a mysterious boy who wants to wait until marriage. The stunning volume of conflicting ideas she lengthily delves through about his secret intentions and motivations really ties the whole thing together for a solid waste of a read.
This is one book I will not be re-reading.