This post is about the New Mexico leg of my year on the road. I'm traveling to all the national parks in the contiguous 48 states. I'm also stopping at several other interesting spots along the way, and making sure to sample the local fare. Public health officials across the country argue that this is one of the safest things to be doing right now.
As someone who lives with essential first responders, this is much safer than staying at home. We had just finished house quarantine after our third covid scare from a room mate's workplace — the day before I left — so I was feeling very ready to get going and put some distance between me and other people.
Previous: Arizona
Next: Texas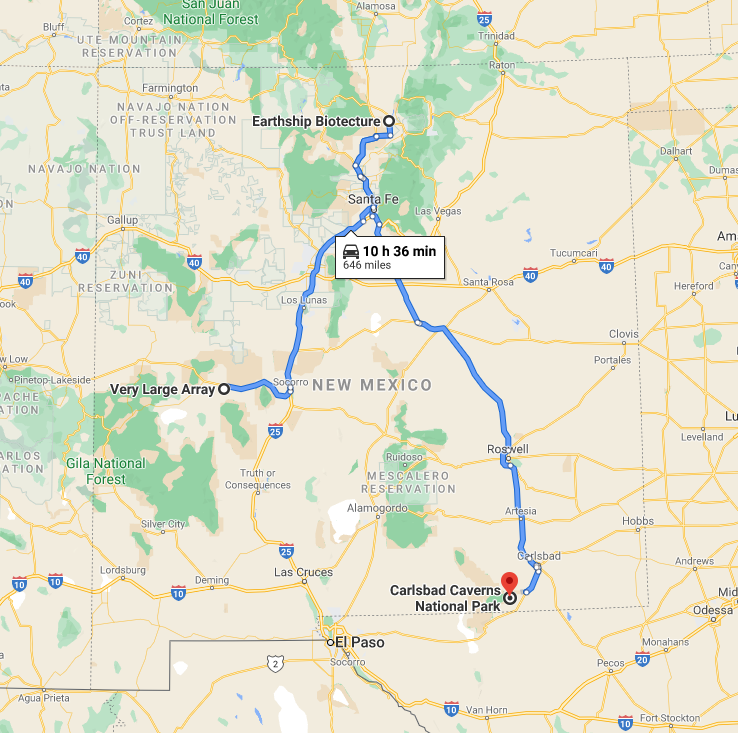 The Very Large Array, New Mexico
Earthship Biotecture, Taos, New Mexico
Meow Wolf, Santa Fe, New Mexico
Carlsbad Caverns National Park, New Mexico
Timeline
There's not a lot going on in New Mexico in terms of national parks. In fact there's just one. I plan to spend about a week in New Mexico.
I'll be coming in from Arizona the night before and staying at Datil Well Campground the first night. This is just $5/night and has restrooms. Which is a very good deal. Plus it has good reviews.
Very Large Array
This is a very cool feat of engineering which has always fascinated me. It's a very large array of radio telescopes. They are networked so they can work together to see far away parts of the cosmos. I recently wrote a term paper about this, and about possible future advances of this technology. Since then, NASA has since actually done some of the things I wrote about. Very cool topic.
After checking this place out, I'm planning to head to Cebolla Mesa Campground which is a free USDA campground near Taos.
Meow Wolf
Meow Wolf is something special. This is a weird arts collective which evolved into a very popular and profitable permanent installation called House of Eternal Return which tourists can pay to visit.
Many loose associations such as arts collectives and arts nonprofits see the example of Meow Wolf as an ideal future state to which they feel compelled to aspire. I'm not sure I accept that, and I think almost all of them stand no chance of doing that. I think this is something fundamentally different from many of those groups, and it's not something that would be possible for most of them to accomplish. I want to understand this difference better, so I plan to visit during this trip assuming they reopen in time.
Sadly it looks like they will not be open during my visit to the area which means just one more reason to come back!
Taos: Earthship Biotecture
As a scholar of improvised community infrastructure, Taos is a top priority for this trip. This is a community which builds experimental xericulture homesteads using recycled material and designing their homes and communities to capture rainwater and coexist with the ecosystem, growing their own food in sustainable indoor desert gardens.
You may notice a theme developing from my previous post which focused heavily on the work of Paolo Soleri in combining community architecture with ecology to create sustainable, regenerative alternatives to the modern industrial city.
I'll be staying nearby at the free campground Cebolla Mesa.
Carlsbad Caverns National Park
I've visited some cave systems in the past, but nothing anywhere near the scale of the Carlsbad Caverns. Formerly on the coast of a now-gone inland sea, these caverns host the nation's largest natural cavern room. "The big room" is 4,000 feet long by 625 feet wide and 255 feet tall. I'm excited for this one.
I may stay at the Carlsbad KOA during this period. I'm not yet certain.
Budget
I'm budgeting about $100 for gas based on my planned route.
I am camping in my diy trailer the whole time so there will be no cost in hotels or lodging with the exception of one night at Datil Well for $5.
The cost of the guided tour at the Earthship Visitor Center is $16.
I'm budgeting $100 a week for food during this trip including both groceries and eating out.
Local Fare
Getting food to go, like camping, falls into the "lowest risk" category of the current CDC guidance.
Buzzfeed recommends Adovada. According to Wikipedia this is "a baked meat dish that is a specialty in New Mexican cuisine. In its simplest form, raw pork is cut into strips or cubes and placed in a large plastic bag with New Mexico red chili powder or minced red chili peppers, garlic, oregano, cumin, lime/lemon juice and/or vinegar, and salt, then mixed and refrigerated overnight. The dish is cooked by baking at low heat wrapped completely in foil or in a covered dish like a casserole dish to keep the meat moist."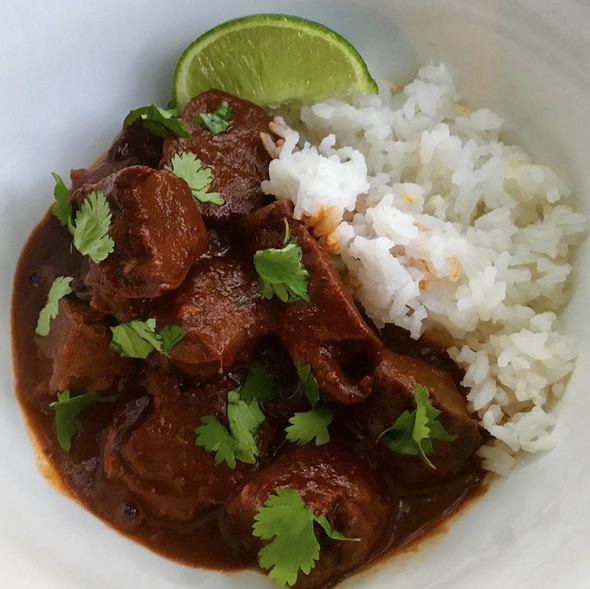 Sounds good. Looks good. Let's try it! There doesn't seem to be any exceptionally popular place to get this so I will probably try several different ones and report back.
Next up: Texas