This post is about the Arizona leg of my year on the road. I'm traveling to all the national parks in the contiguous 48 states. I'm also stopping at several other interesting spots along the way, and making sure to sample the local fare. Public health officials across the country argue that this is one of the safest things to be doing right now.
As someone who lives with essential first responders, this is much safer than staying at home. We had just finished house quarantine after our third covid scare from a room mate's workplace — the day before I left — so I was feeling very ready to get going and put some distance between me and other people.
Previous: Southern California
Next: New Mexico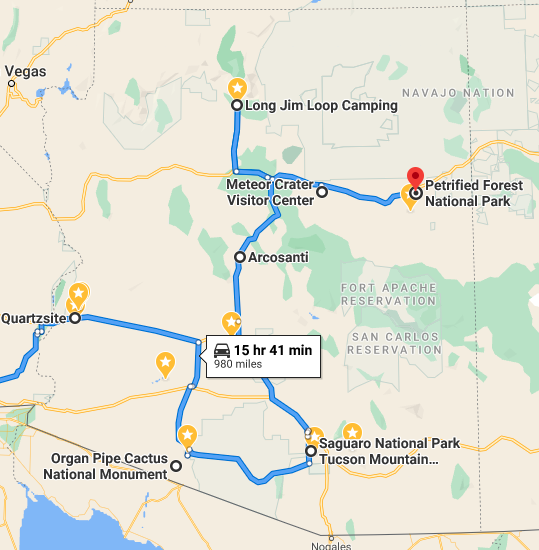 Quartzsite, Arizona (January 14-21)
Organ Pipe Cactus National Monument (January 22)
Saguaro National Park West, Arizona (January 23)
Arcosanti, Arizona (January 24-30)
Saguaro National Park East, Arizona (January 29)
Sonora Hot Dogs at Nogales Hot Dogs in Phoenix (January 29)
Grand Canyon National Park, Arizona (January 31-February 6)
Meteor Crater, Arizona
Petrified Forest National Park, Arizona
Timeline
I plan to spend at least a month in Arizona.
One of the main suggestions from TripAdvisor is kayaking but I'm going to be there in January so that's probably not the most ideal activity for the winter. I would love to come back someday in the summer and run the Colorado. In particular I would love to do a multi-day trip through the grand canyon.
Quartzsite, Arizona
This is a mecca for nomads. Annual events like the Rubber Tramp Rendezvous and the Quartzsite RV Show attract tens of thousands of snowbirds and nomads alike. While there isn't really anything going on this year, and I wouldn't want to go if there was, I still want to experience the remote desert environment here and spend some time writing and working through my long backlog of tasks and projects.
Organ Pipe National Monument
This is not a national park, but rather a national monument focused on a specific local cactus. It seems interesting and lots of people have recommended it, so I plan to stop by.
In the words of Maynard James Keenan, "If you were an extra-terrestrial traveler and you landed in the Southwest and wanted to assume an identity here and blend in. This would probably be a good spot to do that."
I'm very excited to visit Arcosanti! This is a proof of concept Archology designed by visionary architect and urbanist Paolo Soleri. The idea is that the community is designed intentionally to incorporate closed loops which allow it to recycle its waste while providing for its own needs. It also houses as many people as possible in a small, dense area with no cars while preserving the vast wild lands around it; resident stewardship and ecology are built into the architecture of the community. This is where the term arcology comes from.
One of the products they produce are unique hand-forged bronze wind bells. I'm very excited to pick up one of these in addition to a copy of Soleri's book, City In The Image Of Man.
I plan to spend a week here, reading and learning as much as possible.
Saguaro National Park west/East, Arizona
This park has the nation's largest cacti. It's a small park and there seems to be a limited number of activities so we will see how much time I spend here.
I'm excited to see the cactus garden at the museum, and do the scenic drive through the park.
The park is divided in two, with the city of Tucson in between. I will visit each side on separate days.
Grand Canyon National Park, Arizona
I plan to spend a week here, boondocking near Tusayan at Long Jim Loop Camping. Camping here is free for up to two weeks just like Quartzsite and so many other places. This spot is also just a few hundred feet from downtown Tusayan with all the shopping and wifi you could wish for.
About 50,000 years ago a meteor struck this spot in Arizona. It left a huge crater. I want to see it.
Petrified Forest National Park, Arizona
This is a very cool-looking place. I'm excited to see all the weird petrified trees and do the many hikes that are available.
I plan to spend several days here. There are a lot of options for free camping in the area, but the Crystal Forest Gift Shop or the seems like the most obvious option since it's right there at the park and it's free.
Budget
I'm budgeting about $100 for gas based on my planned route.
I am camping in my diy trailer most of the time so there will be little cost in hotels or lodging. There is one exception; I will be spending a week at Arcosanti at $20/night.
I also plan to spend ~$200 on a wind bell and a copy of Soleri's book at Arcosanti.
I'm budgeting $100 a week for food during this trip including both groceries and eating out.
Local Fare
One of the main goals I set for this trip is to try weird and popular local food options. According to Buzzfeed, Sonoran hotdogs are the thing to try while in Arizona. Furthermore, Far & Wide agrees, and suggests that Nogales Hot Dogs in Phoenix is the best place in Arizona to get these mythical Sonoran hotdogs. We will see!
Getting food to go, like camping, falls into the "lowest risk" category of the current CDC guidance.
Honorable Mention
Tombstone seems like it would be fun to check out, but I don't want to get the normal tourist experience.
How It Went
Quartzsite
Quartzsite was amazing. I will absolutely go back every year. I met up with a group of nomads and we camped together for several weeks. The meetup was very very strict with covid compliance which was great. We had a great time getting to know each other safely. I think some of these new friendships will  last for years.
I really liked camping at Plomosa Rd. It was a big open space with lots of room for social distancing.
I love that Quartzsite has a free garbage dump. That was super convenient.
Organ Pipe Cactus National Monument
This place was pretty cool to see. Lots of weird and interesting plants. I'm glad I stopped by. Here is me with an Organ Pipe Cactus…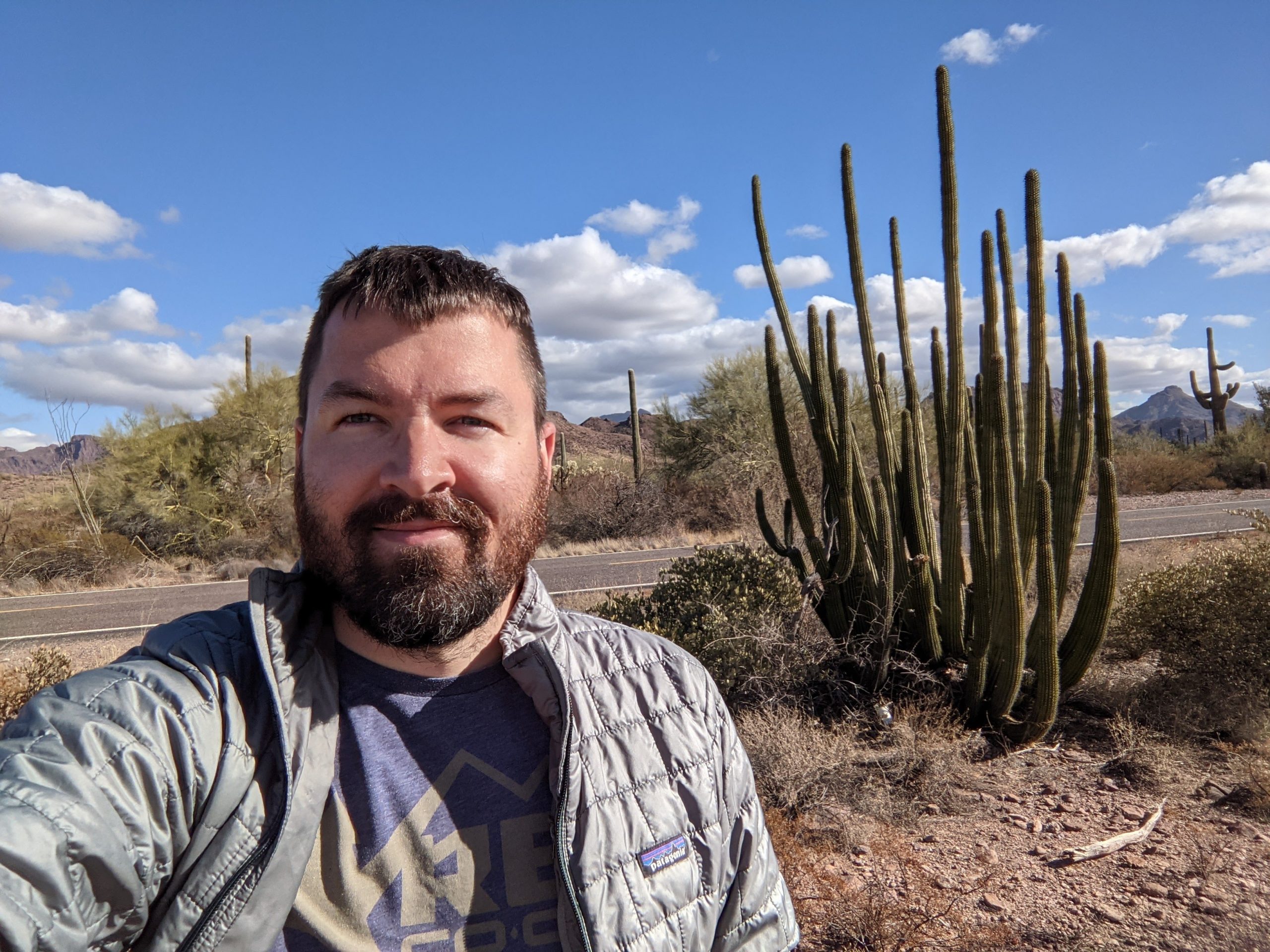 I camped at Gunsight Wash as recommended by the friends I made in Quartzsite. This is a totally free place to camp for up to two weeks just like Plomosa in Quartzsite. It's just a few minutes outside the Organ Pipe National Monument so it's a great spot to stay.
Leaving Gunsight, I called around and found that Loves Travel Stop in Gila Bend takes trash for free which was great. There is also a dump but it's only open weekday mornings and sadly it's not free.
Arcosanti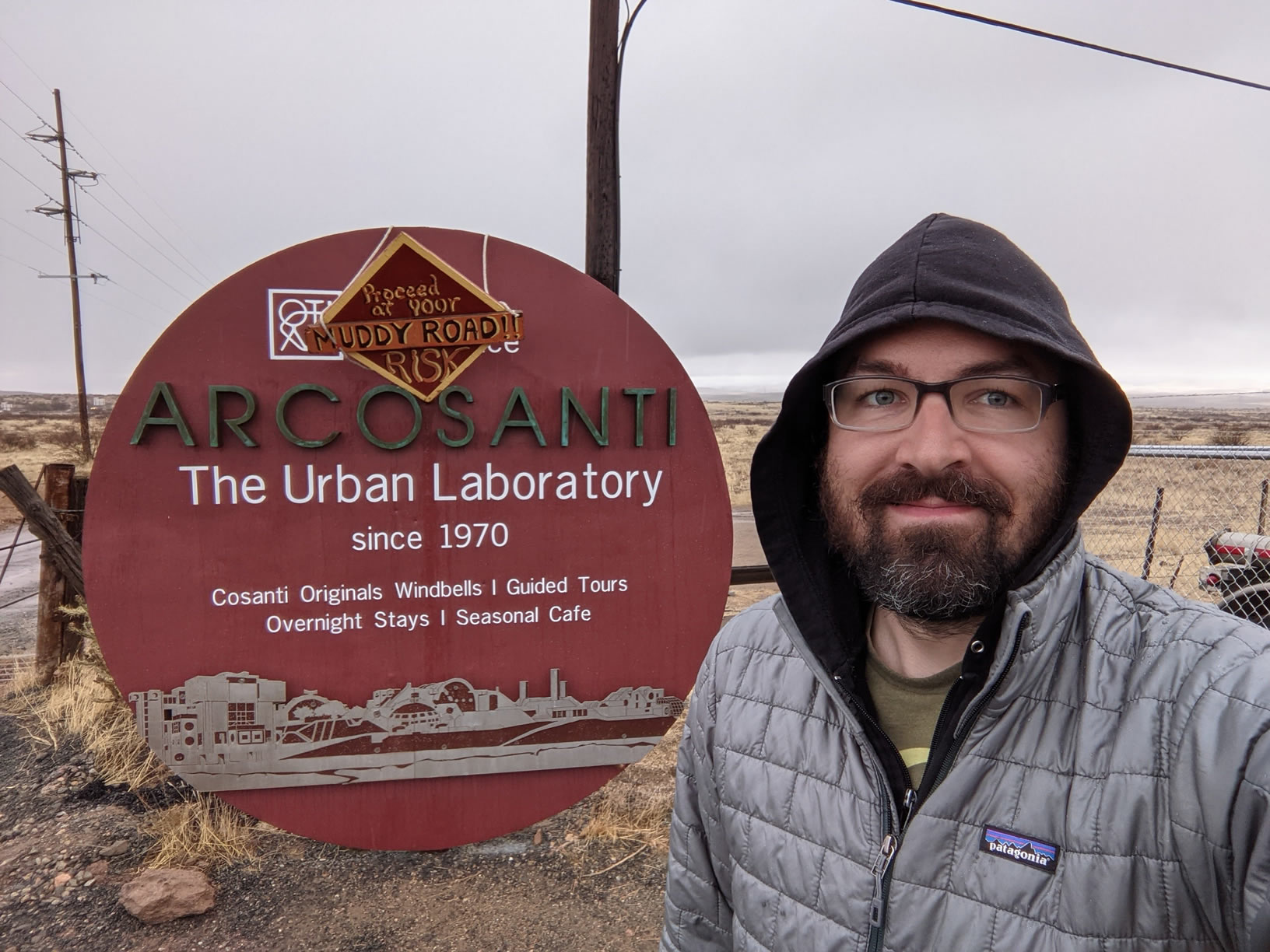 To say I was really excited would be an understatement. I have been obsessed with this place for years and finally I get to see it in person!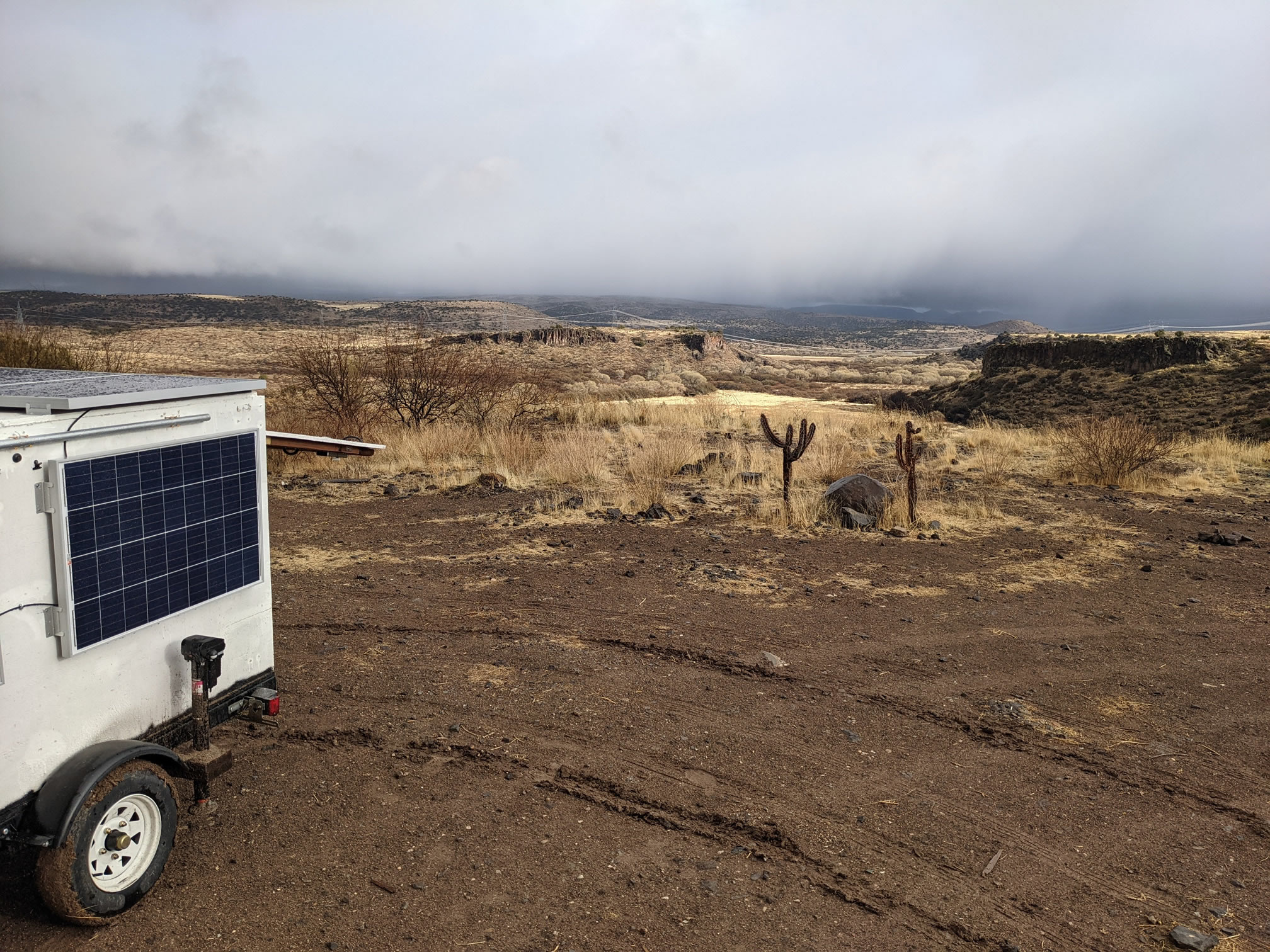 This was my view for the week from a camp site behind the arcology, looking out over the edge of the mesa. This was just $20/night with bathrooms included.
I was very excited to learn that they were taking covid precautions very seriously here. Only the outdoor things are open, and masks are mandatory at all times.
I did the tour of the grounds plus picked up a couple shirts, a hoodie, and a wind bell from the gallery.
During the tour, the guide mentioned that they have witnessed a trend here over the last fifty years of about a 10 degree increase in temperature during the summer and a ten degree decrease during the winter.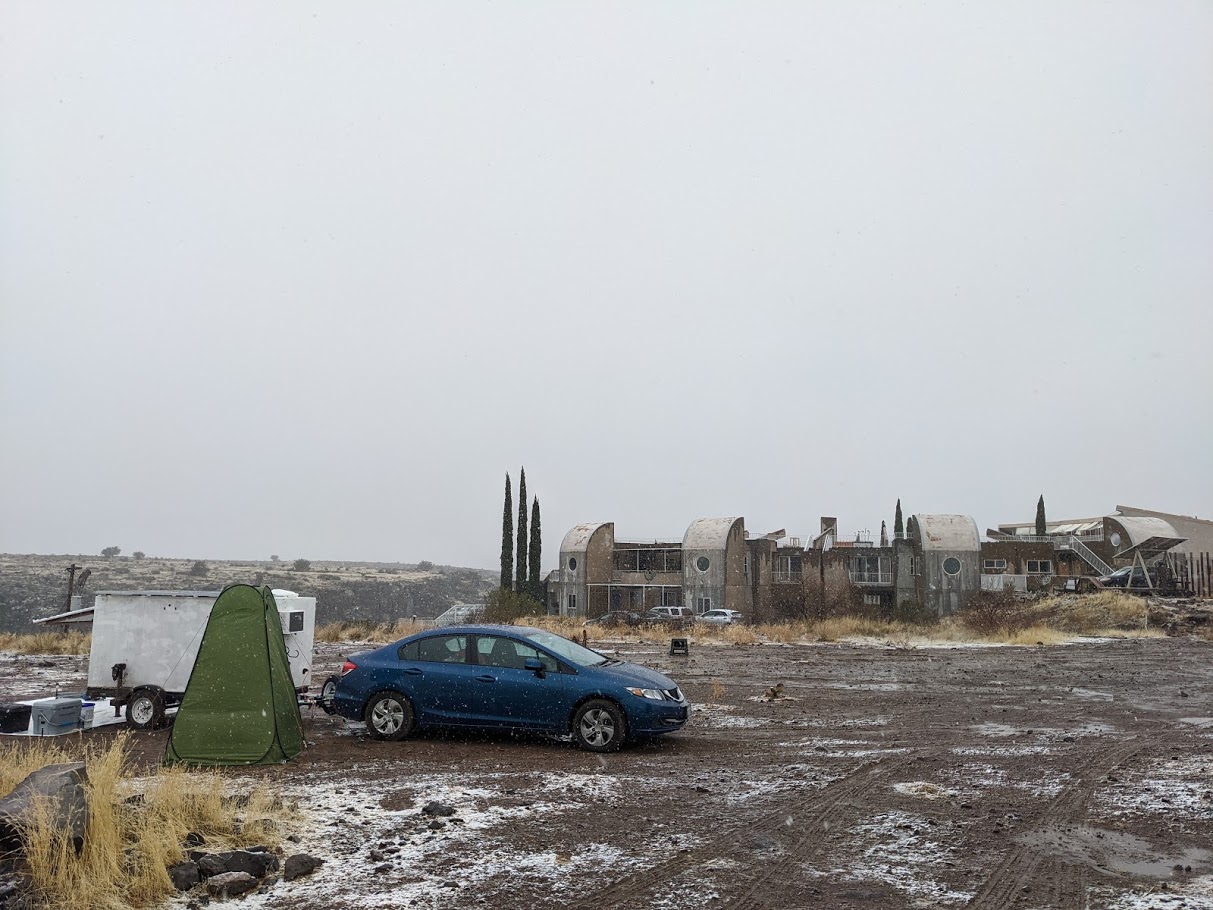 So I was here at a very strange time when we had 58 mph wind gusts and  snow in the high desert.  This made for some great photos. As you can see, I was the only person camped on top of the mesa! The whole Mind Garden was my front yard, and I was the only one taking advantage of it during my stay. Click here to check out the photosphere I created at the same place as the above photo.
Next up: New Mexico