This post is about the Arizona leg of my year on the road. I'm traveling to all the national parks in the contiguous 48 states. I'm also stopping at several other interesting spots along the way, and making sure to sample the local fare.
Previous: Southern California
Next: New Mexico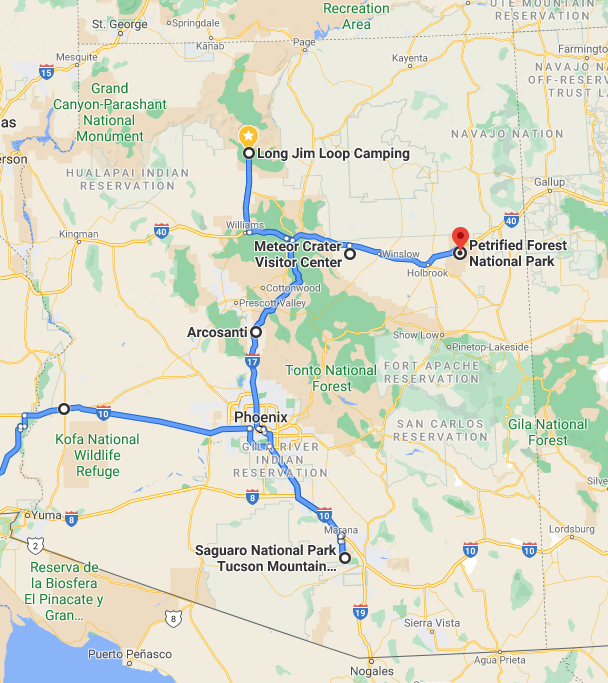 Quartzsite, Arizona (January 14-25)

La Posa South LTVA Nude Campground

Saguaro National Park, Arizona
Grand Canyon National Park, Arizona
Meteor Crater, Arizona
Arcosanti, Arizona
Shangri La Ranch, Arizona
Sonora Hot Dogs at Nogales Hot Dogs in Phoenix
Petrified Forest National Park, Arizona
Todo: go through atlas obscura and add more things
Timeline
I plan to spend about a month in Arizona.
One of the main suggestions from TripAdvisor is kayaking but I'm going to be there in January so that's probably not the most ideal activity for the winter. I would love to come back someday in the summer and run the Colorado. In particular I would love to do a multi-day trip through the grand canyon.
Quartzsite, Arizona
La Posa South LTVA Nude Campground
This is the nation's largest nude campground at over 400 acres. It's inside a BLM LTVA which means you can stay for two weeks for $40 with water, showers, bathrooms, hookups, tank dumps, etc.
The Q Rainbow RV Arizona RV & Tent Show (Link)
From January 15h-24th, this is one of the largest rv meetups in the world, and there is a large LGBT contingent which camps nearby in another LTVA. I think this will be a cool way to make connections in the community and hopefully have a good time.
It's not exactly clear but it seems like this contingent is meeting at the same place where the huge nude campground is, so it may be that these two items will overlap.
Saguaro National Park, Arizona
This park has the nation's largest cacti. It's a small park and there seems to be a limited number of activities so we will see how much time I spend here.
Grand Canyon National Park, Arizona
I plan to spend a week here, boondocking near Tusayan at Long Jim Loop Camping. Camping here is free for up to two weeks. This spot is also just a few hundred feet from downtown Tusayan with all the shopping and wifi you could wish for. (I will be maintaining a full-time class schedule while on this entire trip.)
About 50,000 years ago a meteor struck this spot in Arizona. It left a huge crater. I want to see it.
In the words of Maynard James Keenan, "If you were an extra-terrestrial traveler and you landed in the Southwest and wanted to assume an identity here and blend in. This would probably be a good spot to do that."
I'm very excited to visit Arcosanti! This is a proof of concept Archology designed by visionary architect and urbanist Paolo Soleri. The idea is that the community is designed intentionally to incorporate closed loops which allow it to recycle its waste while providing for its own needs. It also houses as many people as possible in a small, dense area with no cars while preserving the vast wild lands around it; resident stewardship and ecology are built into the architecture of the community. This is where the term arcology comes from.
One of the products they produce are unique hand-forged bronze wind bells. I'm very excited to pick up one of these in addition to a copy of Soleri's book, City In The Image Of Man.
I plan to spend a week here, reading and learning as much as possible.
Shangri La Ranch
This is supposed to be the best nudist resort in Arizona. We'll see. It's certainly much more affordable than anything in California which is a big plus. I'll probably start with a weekend here and see how I feel about staying a bit longer. it might even make a nice base for the Saguaro trip since they don't have camping there, and it's a long drive there and back.
Petrified Forest National Park, Arizona
This is a very cool-looking place. I'm excited to see all the weird petrified trees and do the many hikes that are available.
I plan to spend about a week here. There are a lot of options for free camping in the area, but the Crystal Forest Gift Shop seems like the most obvious option since it's right there at the park.
Budget
The current route as planned is 1,061 miles long, including ingress. With my average 30 mpg will take 35 gallons of gas and cost about $105 in gas.
I am camping in my diy trailer the whole time so there will be no cost in hotels or lodging.
I plan to spend ~$200 on a wind bell and a copy of Soleri's book at Arcosanti.
I'm budgeting $100 a week for food during this trip including both groceries and eating out.
Camping at Arcosanti is $20/night and I'm planning to spend a total of a week there which comes out to $140 for the whole stay.
Local Fare
One of the main goals I set for this trip is to try weird and popular local food options. According to Buzzfeed, Sonoran hotdogs are the thing to try while in Arizona. Furthermore, Far & Wide agrees, and suggests that Nogales Hot Dogs in Phoenix is the best place in Arizona to get these mythical Sonoran hotdogs. We will see!
Honorable Mention
Tombstone seems like it would be fun to check out, but I don't want to get the normal tourist experience.
Further Research
Here are some other resources that helped me plan my trip.
Next up: New Mexico