Public health officials across the country are arguing that camping is the safest thing to be doing during covid. I built a moving cabin in order to do more camping and spend time away from other people.
Since everything is work-from-home, including school, there is really no reason to be anywhere in particular. I decided not to waste this opportunity, and to hit the road and safely see the country while the apocalypse unfolds.
What else am I going to do this year? With satellite internet and cell phone service, I can work from home anywhere on the continent just as easily as being here at home bored out of my mind and staring at a screen all day every day.
National Parks
Randy Olson developed and published the following route for visiting all the national parks (In the 48 states) as efficiently as possible;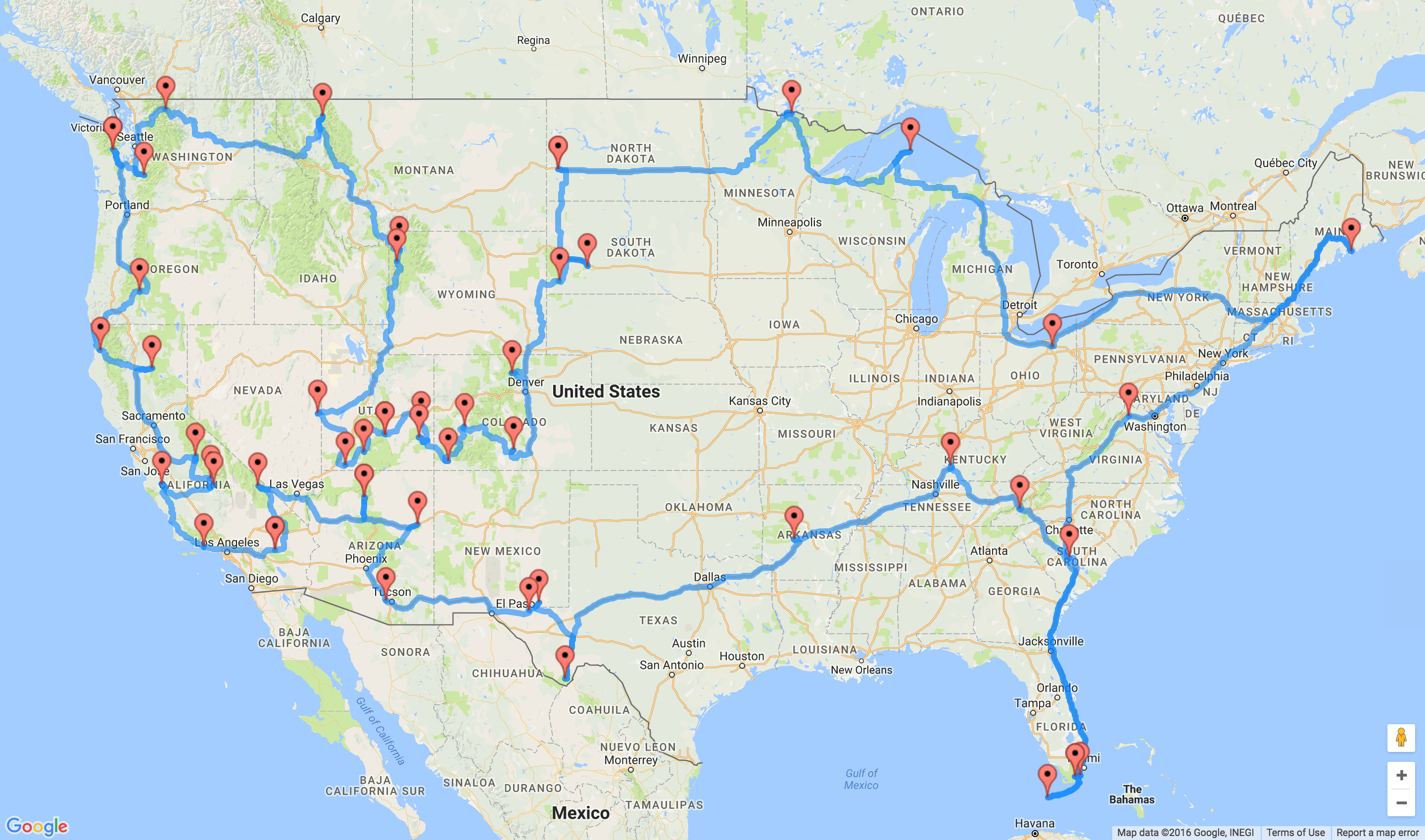 I will be basing my trip on this route, with detours for other interesting destinations I want to visit. Because I am going to be visiting so many national parks, it makes sense to get a park pass rather than paying separate daily fees at all the parks.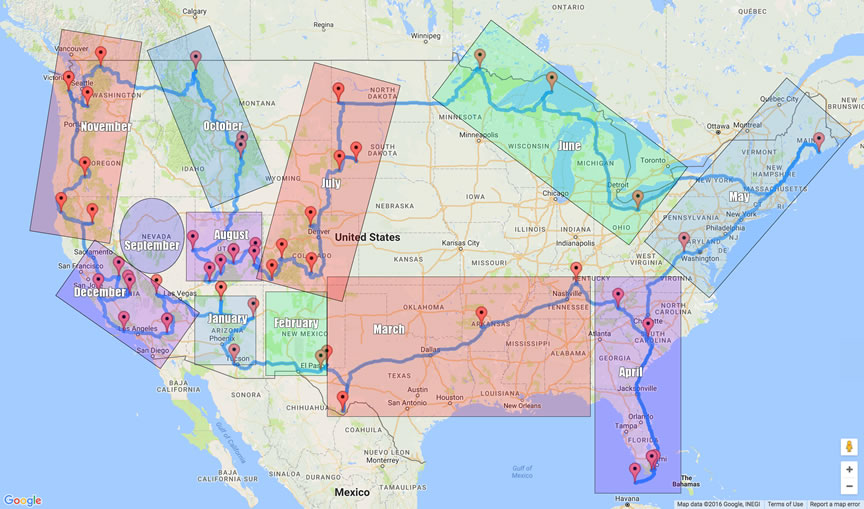 I have split the route up by months, and then I'm adding stops along the way. This allows me to stay generally on course for several time-sensitive destinations including Burning Man and Wasteland Weekend.
Food
About ten years ago, I drove across the country in order ot move my grandparents to California. Everywhere we stopped was basically truck stops and hotels. The food options were boring so I always ordered the same thing, a club sandwich. This was funny and meta but in retrospect kind of boring. This time, I am interested in sampling the local flavor. This article or this article will be my starting place, and then I will expand from there based on further reading.
Nudism
I grew up in Ashland Oregon where no one has to wear clothes, and nudism is one of the biggest attractions. People travel from all over the world to bathe nude in the lithia spring fed pools. I will be stopping at many nudist destinations along the way to experience the local community and attractions.
I found several great guides for the best nudist spots in each state as well as the relevant local rules.
Mostly Free
It may come as a surprise but it's actually very easy to camp for free and there are lots of great free places to camp. BLM/USDA sites are usually free, and there are millions of acres where dispersed camping is free.
I recently did a completely free week-long trip to the Mammoth Lakes area in California. On this much longer trip, I'll also be staying mostly at free sites.
Tentative Itinerary
Here is my full working-list of places and things I want to visit and see. Camping has been arbitrarily banned in California for the next few months despite being the safest thing to do right now according to public health departments across the country, therefore I will be skipping the California parks until the end of the trip.
Mammoth Lake Hot Springs, California
Salton, California
Slab City, California

Oasis Club
East Jesus
West Satan
The Range
Slab City Hot Springs
Salvation Mountain

Quartzsite, Arizona
Arcosanti, Arizona
Saguaro National Park, Arizona
Meteor Crater, Arizona
Grand Canyon National Park, Arizona
Petrified Forest National Park, Arizona
The Very Large Array, New Mexico
Meow Wolf, Santa Fe, New Mexico :[
Earthship Biotecture, Taos, New Mexico
Carlsbad Caverns National Park, New Mexico
Guadalupe Mountains National Park, Texas
Breakfast Tacos, Austin, Texas
Hippy Hollow, Austin, Texas
Big Bend National Park, Texas
Hot Springs National Park, Arkansas
Short Mountain Sanctuary, Tennessee (?)
Mammoth Cave National Park, Kentucky
Great Smoky Mountains National Park, Tennessee
Everglades National Park, Florida
Dry Tortugas National Park, Florida
Biscayne National Park, Florida
Congaree National Park, South Carolina
New River Gorge National Park and Preserve, West Virginia
Shenandoah National Park, Virginia
Washington DC (?)
New York, New York (?)
Acadia National Park, Maine
New Haven, Connecticut
Niagara Falls
Cuyahoga Valley National Park, Ohio
Chicago, Ohio
Isle Royale National Park, Michigan
Voyageurs National Park, Minnesota
Theodore Roosevelt National Park, North Dakota
Badlands National Park, South Dakota
Wind Cave National Park, South Dakota
Devil's Tower National Monument, Wyoming
Rocky Mountain National Park, Colorado
Denver, Colorado (?)
Great Sand Dunes National Park and Preserve, Colorado
Pagosa Springs
Black Canyon of the Gunnison National Park, Colorado
Mesa Verde National Park, Colorado
Four Corners
Monument Valley, Arizona
Canyonlands National Park, Utah
Arches National Park, Utah
Capitol Reef National Park, Utah
Navajo Lake, Utah
Cedar Breaks National Monument, Utah
Bryce Canyon National Park, Utah
Antelope Canyon, Arizona
Horseshoe Bend, Arizona
Zion National Park, Utah
Great Basin National Park, Nevada
Burning Man
Wasteland Weekend
Grand Teton National Park, Wyoming
Yellowstone National Park, Wyoming
Glacier National Park, Montana
North Cascades National Park, Washington
Mount Rainier National Park, Washington
Olympic National Park, Washington
Jantzen Beach RV Resort, Portland, Oregon
Crater Lake National Park, Oregon
Mount Ashland Campground, Ashland, Oregon (The Dyrt)
Redwood National and State Parks, California
Lassen Volcanic National Park, California
Yosemite National Park, California
Pinnacles National Park, California
Channel Islands National Park, California
Kings Canyon National Park, California
Sequoia National Park, California
Death Valley National Park, California

Saline Valley Hot Springs, Death Valley, California
The Racetrack, Death Valley, California
Ubehebe Crater, Death Valley, California
Zabriskie Point, Death Valley, California
Aguereberry Point, Death Valley, California
Dante's View, Death Valley, California

California City, California
Joshua Tree National Park, California