Since the world is ending and everything is work-from-home, including school, there is really no reason to be anywhere in particular. I decided not to waste this opportunity, and to hit the road and safely see the country while the apocalypse unfolds. What else am I going to do this year? With satellite internet and cell phone service, I can work from home anywhere on the continent just as easily as being here at home bored out of my mind and staring at a screen all day every day.
Randy Olson developed and published the following route for visiting all the national parks (In the 48 states) as efficiently as possible;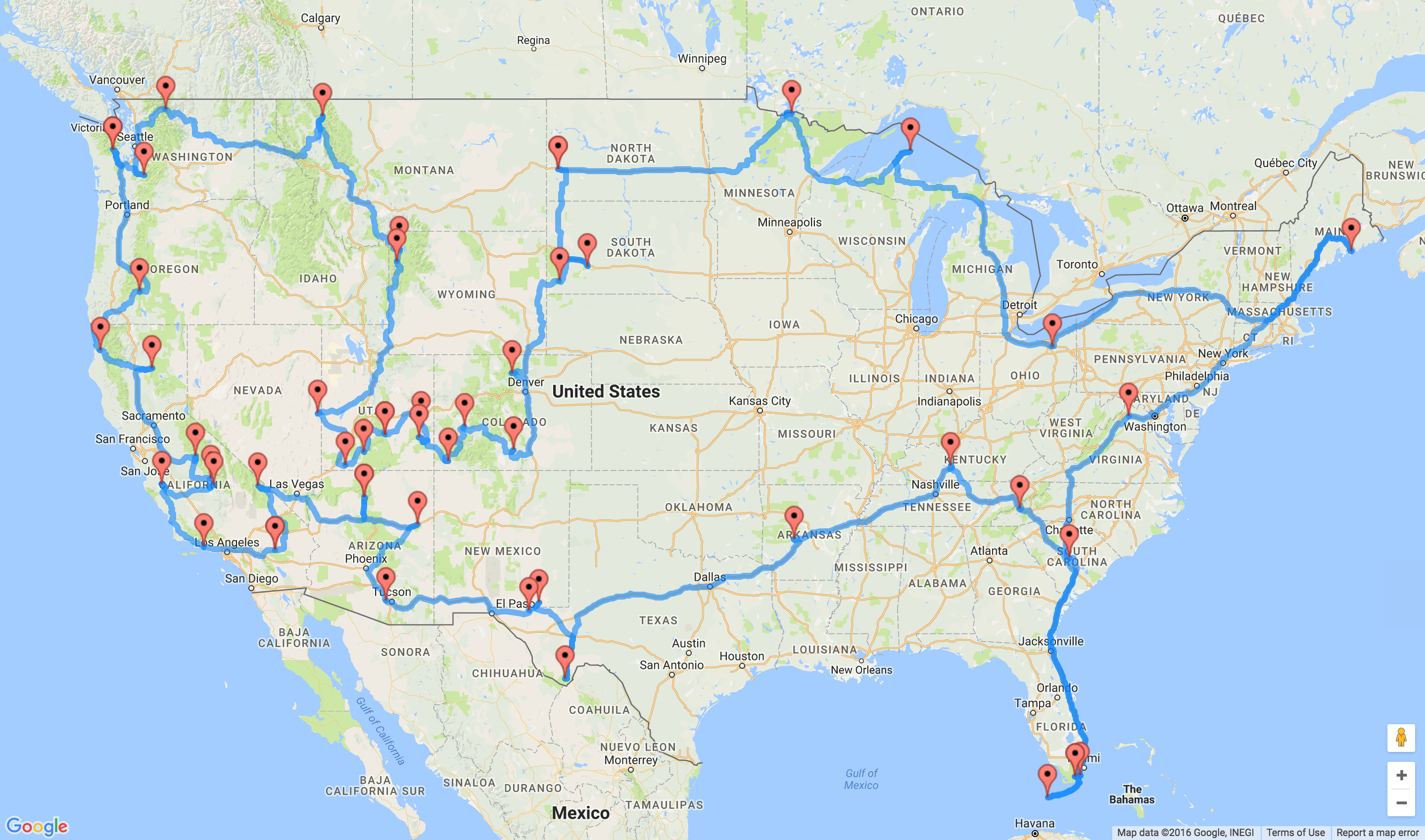 I will be basing my trip on this route, with detours for other interesting destinations I want to visit. Here is my full working-list of places and things I want to visit and see.
About ten years ago, I drove across the country. Everywhere I stopped, I ordered the same thing, a club sandwich. This was funny and meta but in retrospect kind of boring. So this time, I am also interested in sampling the local flavor. This article will be my starting place, and then I will expand from there based on further reading.
Tentative Itinerary
Yosemite National Park, California
Kings Canyon National Park, California
Sequoia National Park, California
Pinnacles National Park, California
Channel Islands National Park, California
Joshua Tree National Park, California
Death Valley National Park, California
California City, California
Arcosanti, California
Slab City, California
Grand Canyon National Park, Arizona
Petrified Forest National Park, Arizona
Meteor Crater, Arizona
Saguaro National Park, Arizona
The Very Large Array, New Mexico
Guadalupe Mountains National Park, Texas
Carlsbad Caverns National Park, New Mexico
Breakfast Tacos, Austin, Texas
Big Bend National Park, Texas
Bourbon Street, New Orleans, Louisiana
Hot Springs National Park, Arkansas
Mammoth Cave National Park, Kentucky
Great Smoky Mountains National Park, Tennessee
Everglades National Park, Florida
Dry Tortugas National Park, Florida
Biscayne National Park, Florida
Congaree National Park, South Carolina
Shenandoah National Park, Virginia
Washington DC
New York, New York
Acadia National Park, Maine
New Haven, Connecticut
Niagara Falls
Cuyahoga Valley National Park, Ohio
Chicago, Ohio
Isle Royale National Park, Michigan
Voyageurs National Park, Minnesota
Theodore Roosevelt National Park, North Dakota
Badlands National Park, South Dakota
Wind Cave National Park, South Dakota
Rocky Mountain National Park, Colorado
Denver, Colorado
Great Sand Dunes National Park and Preserve, Colorado
Black Canyon of the Gunnison National Park, Colorado
Mesa Verde National Park, Colorado
Canyonlands National Park, Utah
Arches National Park, Utah
Capitol Reef National Park, Utah
Bryce Canyon National Park, Utah
Zion National Park, Utah
Great Basin National Park, Nevada
Grand Teton National Park, Wyoming
Yellowstone National Park, Wyoming
Glacier National Park, Montana
North Cascades National Park, Washington
Mount Rainier National Park, Washington
Olympic National Park, Washington
Crater Lake National Park, Oregon
Redwood National and State Parks, California
Lassen Volcanic National Park, California